Last Updated on July 26, 2023
Table of Content
How often do you use the words "Thank you" or "Thanks" in your daily life?
At least a dozen times. Saying thank you for anything comes naturally to us. It is perhaps the easiest way to make the other person feel important and special.

In e-commerce, the benefits go beyond just making someone feel important or special. Thanking a consumer can breed customer loyalty. Saying 'Thank you for your order' goes a long way in making a customer feel part of your success journey as a business owner.
Yes, we are hinting at how your online store should use Thank You messages for customer orders. Write a thank-you note or attach a "thanks for your order" card!
But, like any customer communication, a thank you message also has certain facets. Do it right, and you can win your customers' loyalty. Make a mistake, and you might be disappointing countless customers at once.
To To spare you from such untoward incidents, we wrote this article. By the time you reach the end of this article, you will know the following:
Why thank you for your order messages are important
Best ways of saying thank you
The anatomy of a thank you message
The Do's and Don'ts of thank you messages
10 read-to-use thank you for your order messages
Why thank you for your order messages are important
Thank you messages for your orders might seem like a tail-end to a completed order. However, looking deeper, they can nudge customers to become more attached and engaged with your brand.
There are three ways why thank you messages are important for your business.
It promotes customer loyalty.
A thanA thank you message for the customer's order makes the customer feel special and appreciated as an individual. It helps build customer loyalty and ultimately helps retain customers without giving the competition a chance to steal them.
It shows that you are a customer-centric company.
Customer-centricity is a culture, and gratitude is a virtue of any good culture. Expressing gratitude for supporting your business and giving you an opportunity to grow is a sure sign of customer-centricity. It is for this reason that some CEOs even take to pen down thank you notes. Saying ' Thank you for your order ' is no longer just a gesture of goodwill but rather the minimum that a customer expects from a business.
It delivers customer satisfaction.
A thank you note can be used in several ways other than just showing gratitude. This helps in delivering better customer satisfaction. A 'Thank you for your order' message can also be used to share order information, show related products, and help customers find better options that will make their life easier.
Best ways of saying thank you for your business
"Thank you" consists of only two words. However, there are countless ways you can say it. In the digital world, you also have several channels through which you can show your gratitude.
Here are five of them that should apply to your e-commerce orders.
A dedicated thank you page
Post-order thank you email
Chatbot snippet
Thank you cards
Complimentary products
A dedicated thank you page
Every time a customer completes an order, he or she can be taken to a dedicated thank you page. The page can confirm that the order has been taken and when it is expected to be delivered. A prominent thank you note can be included along with the order details. Further, more product recommendations can be shown beneath the thank you page to enable the customer to continue shopping.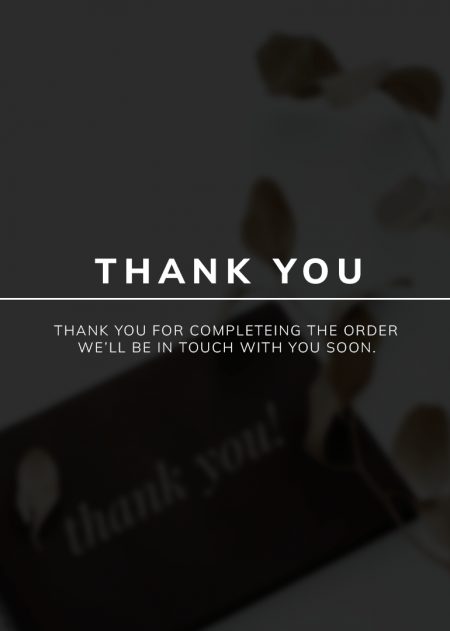 Post-order thank you email
An email is perhaps the oldest means of online communication. Yet, it is still the most widely used and relied upon channel for exchanging and storing information. For an online store, it is the perfect channel to send order confirmations along with a thank you note. Saying 'Thank you for your order' over an email adds a level of personalization that makes the customers feel valued.
Email also gives you the creative freedom to embed flamboyant visuals and animations that can make your thank you message stand out. You may also use GIFs and stickers with a hint of humor that can heighten the recall value of your thank you message.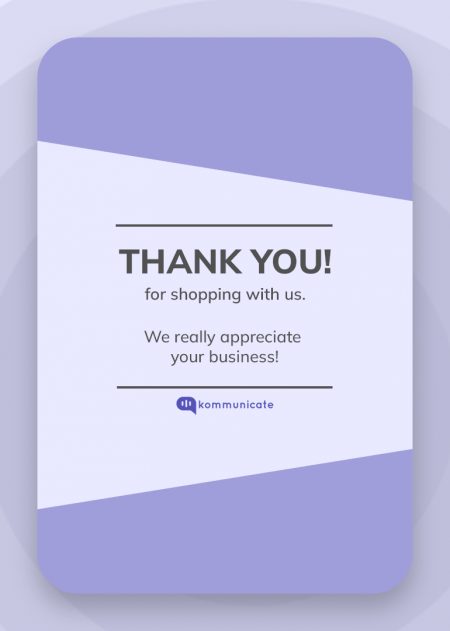 Chatbot snippet
Chatbots have become synonymous with real-time communication. They make it possible to send instant thank you messages once the order is received. The chatbot on your website, your social media handle, or even your WhatsApp can be used to share a thank you message. When a customer sees a chatbot saying 'Thank you for your order,' it is bound to bring a smile to their face.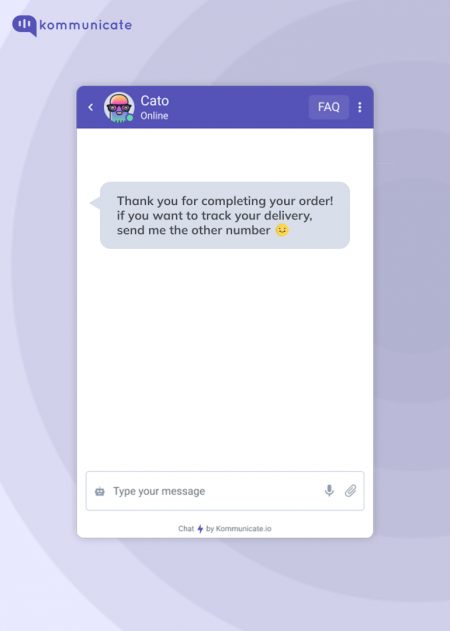 Suggested Read: Add chatbot to your website to send thank-you message
Thank you cards
Although digital communication has become mainstream, physical cards carrying thank you messages have a charm of their own. Especially handwritten thank you notes. Of course, it is not practically possible to write thank you notes when you have hundreds of orders to be dispatched in a single day. However, you can print typography thank you messages that resemble handwritten notes. They should help strike a chord with your customers.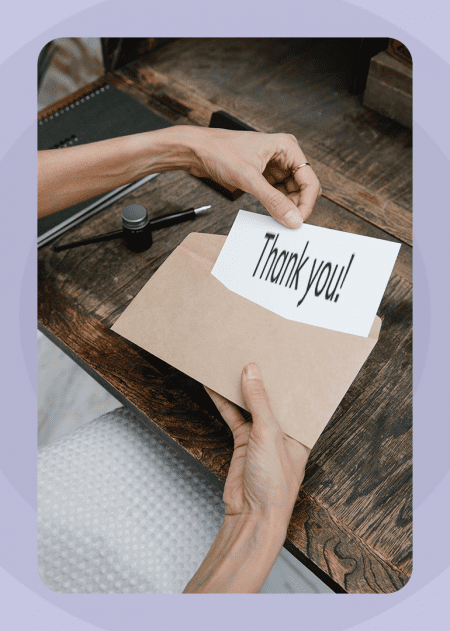 Check out: Create Your Best Thank-you Card
Complimentary products
If you want to say thank you in a real and tangible way, complimentary products are the best way to do it. Small mementos, trinkets, scented candles, and even bookmarks can go a long way in making our gratitude felt by your customers. If the products are really nice and excite the customer, they might even place some orders for them. That's how you can turn even a thank you message into a cross-selling or upselling opportunity. Saying 'Thank you for your order' via a complimentary product is thus a great way to get your customers to notice products on your website that they might otherwise have missed.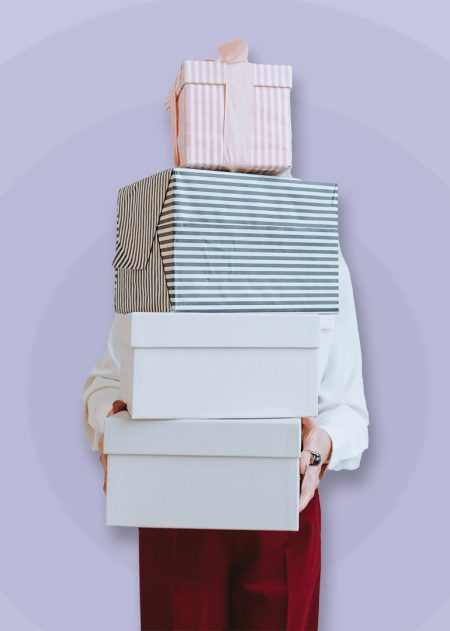 The anatomy of a thank you note
A good message on thank you for your ordering is made up of specific components. You may not recognize them explicitly; however, these components are part and parcel of a thank you for order message that makes them appealing to customers.
Be genuine
It is easy for anyone to detect a thank you message that is not genuine. A half-hearted 'Thank you for your order' message written and communicated for the sake of it is a terrible one.
An excellent thank you message will exude warmth, happiness, and genuine gratitude. It will tell the user that you are genuinely grateful for the business.
Showcase reason
Most thank you messages indicate gratitude for the business and the revenue that it provides. However, you can also use the thank you message to communicate other information, like:
Thank you for supporting our new venture
Thank you for making an eco-friendly choice
Thank you for supporting veteran-owned business
Thank you for choosing a women-owned business
To make the thank you message more interesting, look into your business and focus on its uniqueness. Use the thank you message to highlight your USP. This unique addition to your thank you message can deepen the customer's relationship and motivate them to continue choosing you over the competition. For instance, you can say something along the lines of 'Thank you for your order.' We have just added a feather to our cap, and it is you, dear customer."
Show that their order matters
When making the thank you message stand out with detailing, your only limit is your imagination. The thank you message must clearly communicate that the customer's order is not one among hundreds or thousands but an individual order that makes a difference to the business. You can include details like your order is providing employment to XX individuals, is saving XX trees, contributing XX to social causes, and so on.
Create a personal connection
A thank you is a one-to-one exchange of gratitude. Although it can be communicated in many ways, this calls for writing a personalized thank you message. The tone and voice of the thank you message must be like a one-to-one conversation, casual yet with a tinge of formality.
The Do's and Don'ts of thank you message
One must follow several best practices while writing a thank you message. These best practices will ensure that you do not write a cheesy or sleazy thank you message that could damage your brand reputation instead of uplifting it.
Here are some do's and don'ts to bear in mind while writing your thank you message for orders.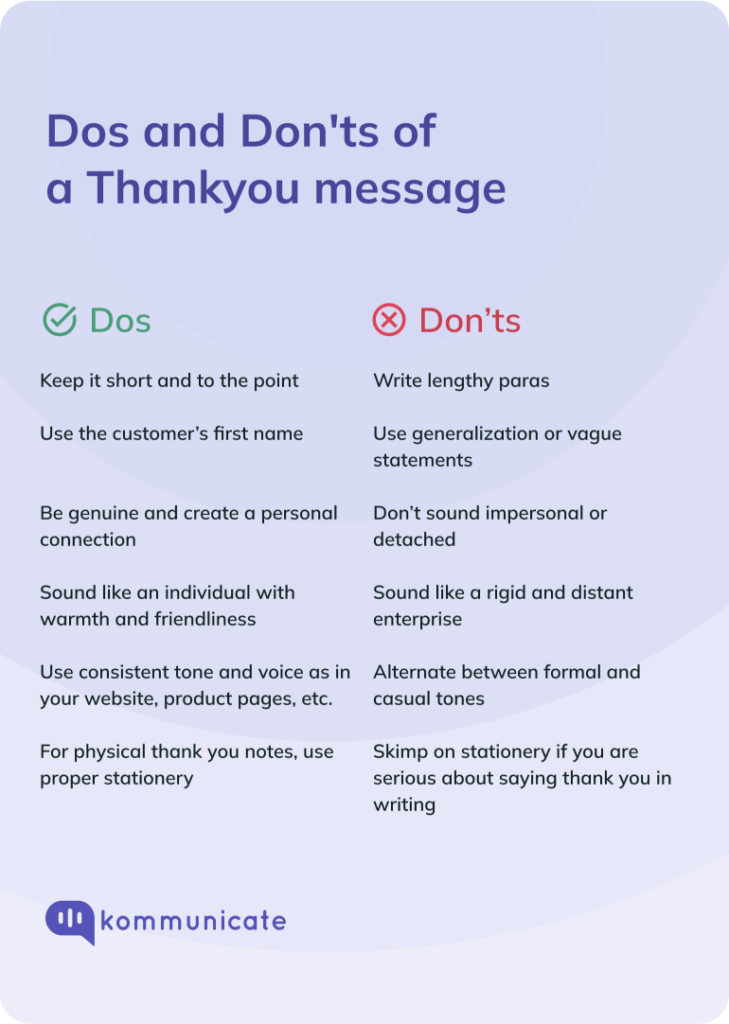 10 ready-to-use thank you for your order templates
We know writing anything from scratch, let alone a thank you message, could be nerve-racking. This is especially true when running and trying to scale an online business.
Here are 10 ready-to-use thank you messages for your customers' orders. They should help put a smile on your customer's faces.
Thank you for shopping with us! I hope your shopping experience was smooth!
Yay! You're now part of our inner circle. Here's your [order number]
Our order genie has taken note of your order [order number] to be delivered on [date].
Your [order] is getting ready for dispatch. Expect delivery on or before [date]
Dear [first name]. Thank you so much for choosing us.
Thank you, [first name]. Could you please rate the ease of shopping with us?
Hey [first name], it is customers like you that keep us going. Thank you!
A big thank you from all of us at [company]. Your order will be delivered by [date]
You're awesome! Thank you for supporting small businesses like ours!
Thank you for your first order. The next time you shop with us, we have something special for you.
Best Thank you for Your Order Quotes
Thank you so much for your order. We really appreciate and hope that you love your purchase.
When you support a small business, you're supporting a dream. Thank you for your purchase!
Your purchase made our day… We hope that it makes your day too! Thank you for your order.
Thank you so much for your purchase. We hope that you enjoy it!
Thanks a million for your purchase. We hope that you love your new (insert item here).
Thank you for your order. We appreciate your support and hope that you love it!
Best 'Thank you for the Purchase' Email templates
Although the purpose of the thank-you message is an appreciation for the customer, it's best to not waste their time with long emails.
Don't get me wrong, I'm not saying that longer messages are bad, but for electronic formats, they aren't the best practice. If you're thinking of sending more extended thank-you notes, consider printing them and adding them to the product packaging. This small surprise might work as an added value to the customer experience.
Back to emails—the copy should be concise, getting straight to the point as quickly as possible.
You should also consider whether you only say "thank you" in your message or if you'll add some call-to-action, like "leave a review," "follow us on social media," etc.
Pick the best email layout according to your email content, and don't forget to include your logo.
Template #1 – Thank you and social proof
You can send this email to customers on the day their package is delivered.
[branded image or collage of happy customers' photos featured on social media]
Yaay… Thank you for choosing us! You are awesome.
This also means you trust us, and we are friends, right? As friends, we want to get to know you better.
Can you do us a favor? As soon as your package arrives, click a couple of photos and tag us, and we'll feature them in our stories. Just like friends do!
Let's paint those walls with some beautiful memories.
[CTA – big social icons]
If you feel awkward writing thank-you emails, check out our list of pre-built thank you email templates (& so much more)
Template #2 – Thank you for your order
You can use this email to replace the standard confirmation order or receipt email.
[branded image or typographic image with "Thank you" ]
Dear [Customer name],
Thank you for your order.
We appreciate your loyalty. Without you, we wouldn't exist!
To show our gratitude, we are going to shave a good 15% off your next purchase. Here is the discount coupon attached.
[discount code block with CTA]
This is what you ordered this time:
[table with products ordered]
Template #3 – Thank you and review request
Dear [Customer name],
Just want to Thank you for choosing us.
Would you mind giving us your feedback in the form of a short review? Just jot down a few things that you liked/disliked with your last purchase.
[table of products purchased with CTA to review page]
Thanks again.
The [brand name] team
Template #4 – Thank you and review request
Hey [Customer name],
We see that you recently bought some merch from us. Thanks a ton.
Did you like what you bought? Did you get a chance to try everything?
[CTA to review products]
[table of recently purchased products]
A big Thanks from the team again. As always, we would love to hear what you think of us.
Template #5 – Thank you and simple order confirmation
Hi [customer name],
Thanks a bunch for your order! We couldn't be happier.
[Order number]
[Order Date]
[Estimated time of delivery]
[Table of items purchased]
[Delivery details]
Thanks again.
The [brand name] team

Template #6 – Thank you and longer order confirmation
Thank you for checking us out!!
We hope you love your new [product]. We expect to deliver it to you by[estimated delivery time].
[table of purchased products]
In case of any queries, shoot us an email, and we will be happy to answer it
[your email].
Didn't like your product? You can easily return it to us here: [link to return policy]
[Your brand name]
Parting thoughts
Saying thank you to a person comes easy to most of us. However, as a business, you must make some effort to craft a good thank you message that will make customers feel appreciated and valued. It gives them the impression that their order is valuable for your business and their personal relationship is equally valuable.
You must now know how to write a thank you message for your orders. Remember, a 'Thank you for your purchase' message is not just showing gratitude. It is also a way of appreciating your customer for giving your business an opportunity to serve them. Going the extra mile to appreciate and make your customers valued is something worth spending time and money on.
Do you send out thank you notes for your customer orders? What best practices do you follow? What has worked, and what hasn't? Let us know. 🙂
---
At Kommunicate, we are envisioning a world-beating customer support solution to empower the new era of customer support. We would love to have you on board to have a first-hand experience of Kommunicate. You can signup here and start delighting your customers right away.