Last Updated on March 13, 2023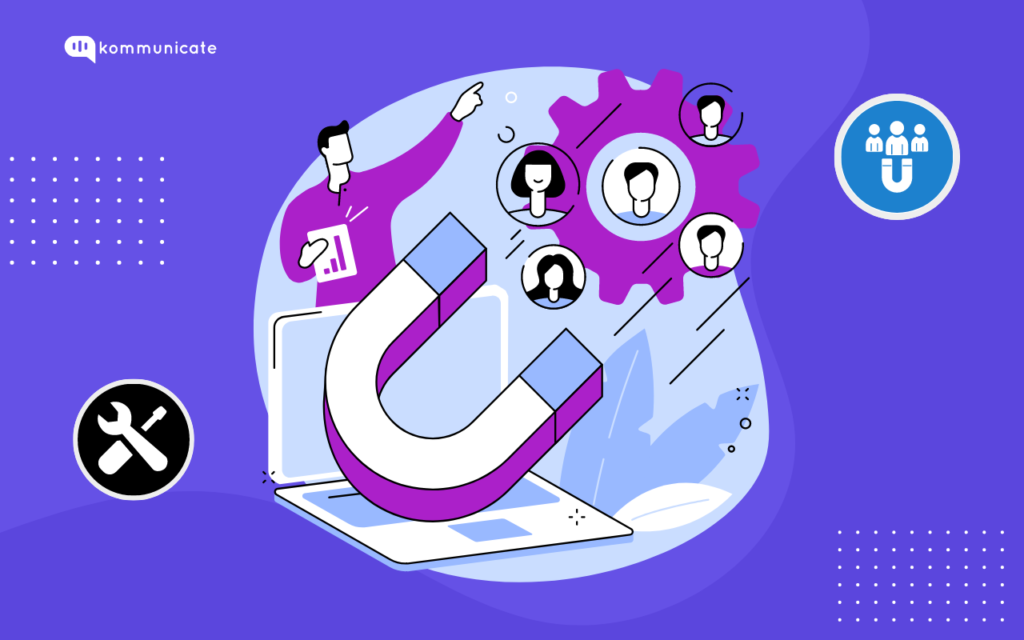 Lead generation is an essential part of any successful business strategy, and with the advent of new technology and software, generating leads has become easier than ever before. In 2023, businesses will have access to a wide range of powerful lead generating tools that can help them identify and engage with potential customers.
In this article, we will explore some of the top lead-generating tools that businesses must know about in 2023. Whether you're a small business owner or a marketing professional, these tools can help you streamline your lead-generation efforts and take your business to the next level.
1. Website Lead Generation
Every day, visitors come to your website to find out more about what you have to offer. Your goal should be: Collect as many qualified B2B leads with your website as possible! One possibility is to use a good, old lead form in which a prospect leaves his or her contact information. This will tell you the company they are working for. In the next step, you can target these companies.
Lead Forensics has developed a great lead generating tool that identifies your website's visitors and offers information. This includes the business's name, contact information, demographics, search behavior, and financial data. Their services are also available in the form of an app.
LeadLab identifies the majority of your website's visitors, allowing your sales team to concentrate on the businesses that have already displayed an interest. Furthermore, website visits can indicate which companies should be prioritized in your pipeline.
Leadfeeder is also a lead generating tool that informs you of the companies that visited your website. These visitors are identified as leads and prioritized based on their activity on your site. Next, they are forwarded to your sales department.
2. Chatbot builders and Live Chat Lead Generation

Chatbot builders are a powerful tool for lead generation as they enable businesses to engage with potential customers in a more personalized and interactive way. Here are some steps to use chatbot builders for lead generation:
This is a chatbot builder that allows you to create chatbots for websites and mobile apps. Kommunicate chatbots can be integrated with various messaging channels, including website chat, Facebook Messenger, WhatsApp, Telegram, and Line. Easy integration with CRM and other tools, Chatbot-to-human handover, and Multi-lingual support, all powered by cutting-edge conversational AI ensure superior Lead generation.
This is a popular chatbot builder that allows you to create chatbots for Facebook Messenger, SMS, and email. ManyChat offers a range of templates to help you get started and can help you capture leads by asking visitors for their contact information.
You might also want to read This Is Why You Should Use a Chatbot For Your Business.
3. Advertising Platform driven Lead Generation
Advertising is an essential component for lead generation through your website or online. Depending on your campaign type and strategy, multiple service providers are available to increase your website traffic.
Google Ads is a platform that enables you to reach billions of users with your online campaigns. You can display your ads when they search for specific keywords, watch videos on YouTube, or view display ads on partner sites. Search campaigns are particularly effective since they allow you to target people who are searching for your products and solutions.
You can select relevant keywords for your campaign and create an appropriate ad. When a potential customer searches for one of your keywords, your ad will appear at the top of the organic search results. If you have competitors running ads on similar keywords or if your website doesn't rank well in Google search results, running a campaign with Google Ads is highly recommended.
Microsoft Ads, previously known as Bing Ads, is another platform that you can utilize to benefit from online campaigns. Many people still have Bing set as their default search engine on their computer, making it a potential source of leads for your business. The cost per click is often lower, and there is less competition compared to Google Ads.
4. Review Platform Lead Generation
A review platform is an online platform that allows consumers to post reviews about businesses, products, or services. It helps potential customers make informed decisions by providing them with unbiased feedback from other customers. However, for a review platform to be successful, it needs to generate leads, which can be challenging.
Lead generation for review platforms involves attracting businesses to register and create profiles on the platform, which, in turn, can attract more consumers to read and post reviews. Hence using review platforms as a lead generation tool is a great way to bring in steady leads
Capterra is renowned for being a comparison platform for software, particularly in the English-speaking market. Despite being available in Germany, it has not yet gained significant popularity.
With over 700 categories to choose from, you can list your product and use Capterra's pay-per-click model to boost your list position and generate leads.
If your target audience is in the English-speaking market, it is recommended to list your software solution on G2, which has established a strong reputation with over 1.2 million reviews.
Vendors can identify potential customers searching for a specific solution to their problem, making it easier for your sales team to connect with potential clients.
5. Other Lead Generation Tools
Here are a few other powerful lead generation tools that you can use:
Apptivo offers an efficient method of collecting leads through its leads app. You can create leads manually or extract them from web forms, APIs, emails, and more. The platform also provides lead scoring, which enables you to prioritize leads and focus on the most active and valuable ones. With customizable filters and sortable lead views, you can personalize your experience in the Leads App. Apptivo Lead Management is compatible with your favorite apps, allowing for increased productivity by synchronizing data across various apps.
Driftrock is a tool that helps with lead generation by connecting your digital advertising campaigns with your customer relationship management (CRM) system. Here are some ways that Driftrock can help with lead generation – lead capture, lead scoring, lead nurturing and analytics.
Wistia is a video hosting and analytics platform that provides businesses and content creators with tools to create, manage, and analyze video content. They have designed the platform to help businesses use video effectively as a marketing and communication tool. Wistia's Turnstile is a lead-generation feature that allows you to collect email addresses from viewers who are interested in your video content.
Turnstile allows you to customize the email capture form that appears in your video player. You can also choose where to place the Turnstile form in your video. It also enables form gating and integration with email marketing profiles like MailChimp and more. Turnstiles analytics ensure you are always on track to hit your lead generation numbers.
Wrapping Up
Lead generation is a critical component of any successful business strategy. In 2023 enterprises will be flush with options in the market. From chatbot builders like Kommunicate Kompose to lead management software like Apptivo, and video marketing tools like Wistia Turnstile, the options for lead-generating tools are vast and varied.
By leveraging these tools, businesses can streamline their lead generation efforts, save time, and focus on converting leads into loyal customers. Whether you're a startup or a large enterprise, investing in the right lead-generating tools and lead generation kpis can make all the difference in your business's success.
---
At Kommunicate, we envision a world-beating customer support solution to empower the new era of customer support. We would love to have you on board to have a first-hand experience of Kommunicate. You can signup here and start delighting your customers right away.