Last Updated on July 19, 2023
What sets your business apart from the competition in the market? Superior products? A greater variety of products? Faster delivery? While these are all important factors, the one factor that will keep your business in the minds of your customers is how you made them feel before, during, and most importantly, after the purchase has been made.
In other words, your customer experience has to be top-notch, and this is where best AI chatbots come in.
Chatbots not only make your business more efficient, but they also help in delivering a customer experience that will leave a positive impression of your brand. Also, customers these days don't mind speaking to a chatbot, according to Small Biz Genius's report, which says that as long as the bot is prompt in its response, over 63% of the users will interact with it.
So how do you build a chatbot for your website? Well, that part is easy. You follow a few simple steps on how to build a chatbot that we put together.
But then, there are other questions like:
Which chatbot builder do you choose?
How much does implementing a chatbot on your website cost you?
What are the features that you should consider?
How important is the UI of the chatbot builder platform?
We answer all these questions in this article and offer you a lot more.
Before that, a small refresher course on the types of chatbots.
There are 3 types of chatbots that you can build
Rule-based chatbots: These are logical chatbots that work on a predefined conversational flow. The users input their choices, and the bot replies to them based on a set of rules that have been coded before. Generally suitable for building simple bots, such as an information bot or an FAQ chatbot.
AI Chatbots: AI chatbots make use of Natural Language Understanding (NLU) and Natural Language Processing (NLP) to get progressively better at answering queries over time. These chatbots are a bit more complex to design and deploy, since they first have to understand the intent behind a human input. Based on this understanding, these AI chatbots give a contextual answer that is relevant to the human asking it. Thus, they don't rely on a predefined set of rules set by a human being.
Hybrid chatbots: Hybrid chatbots combine the best of rule-based and self-learning chatbots, wherein they are trained to respond to user requests using a predefined set of rules. At the same time, they can also use machine learning and artificial intelligence to improve their responses over time.

17 Best AI chatbots that we have reviewed in this article including ChatGPT and it's alternative
We don't want to keep you waiting, so let's dive right in.
1. Kommunicate
Sl No.
Name
Free trial
Main features
1
Kommunicate
Yes
Easy to use bot builder
Numerous integrations
Superb customer support.
2.
ChatGPT
Yes
Designed for text-based conversations and interactions.
Provides information, answers questions, and engages in discussions.
Accessible through various platforms and interfaces
3.
Bard
Yes
It can produce poetry, prose, and other forms of written content.
The model can mimic the style and tone of various authors and genres.
It can generate text in response to prompts or specific instructions.
4.
Hugging Chat
yes
Hugging Chat is designed for text-based conversational interactions.
It can understand and generate human-like responses to engage in dialogue.
The model is trained on large amounts of text data to learn language patterns and context.
5
Kuki aka Mitsuku
Yes
Easy to sign up and use.
Excellent emotional intelligence
Multi-platform compatibility.
6
Bot Penguin
Yes
Easy to monitor social media traffic.
Lots of CRM integrations.
Value for money.
7
Chatfuel
Yes
Minimal and clean interface.
Advanced personalization options.
Affordable pricing.
8
Tidio
Yes
Intuitive user interface.
Impressive list of features.
Varied integrations.
9
Botsify
Yes
Ease of creation of bots.
Over 24 chatbot templates.
Impressive analytics.
10
Aivo
No
Agent monitor and chat report for advanced analytics.
Take customer feedback seriously.
11
Pandorabots
Yes
Easy to use interface.
Open-source framework.
Advanced intent recognition.
12
Manychat
Yes
Audience tab which is really helpful to the sales team.
Well-organized sequences.
13
Wati
Yes
Easy to send customer notifications over WhatsApp.
Excellent reporting capabilities.
14
Chatbot.com
Yes
Flow builder which makes bot building easy.
Training section to improve bot performance.
15
Hubspot
Yes
Intuitive interface.
Live-chat integration.
16
Giosg
Yes
List of impressive integrations.
Real time metrics.
17
MobileMonkey
Yes
Pre-built templates.
Omni-channel widget.
1. Kommunicate.io
Kicking things off in this list is the one chatbot solution that we can describe the best since we have been building and testing it for quite a while. Kommunicate is a customer support automation platform helping you build live chat and chatbots for your website.
Traditional customer service needs a serious overhaul, and Kommunicate envisions a solution to this problem using a human + chatbot hybrid model. Kommunicate's Kompose chatbot builder uses a simple block builder to build your conversations.
You can build a fully functioning chatbot in a matter of minutes with Kommunicate. What's more, as you are building your bot, you can see a preview of it on the right-hand side.
You can test your bot as you are building it, which is a great feature to have. Kommunicate also scores heavily on the AI & NLP features, where you can understand the intent of the user by adding keywords. Kommunicate provides integrations with AI systems such as DialogFlow, IBM Watson, and Amazon Lex.
The impressive list of integrations also extends to CMS systems such as WordPress, Squarespace, and Wix, CRM systems such as Zendesk, Pipedrive, and AgileCRM, and E-commerce platforms such as Shopify, Magento, Prestashop, etc.
Kommunicate also integrates well with messaging platforms such as WhatsApp, Facebook, Line, and Telegram. Use automation to manually resolve dormant conversations, automatically hand-off conversations to humans in case the bot is unable to answer a question, and do a lot more with Kommunicate.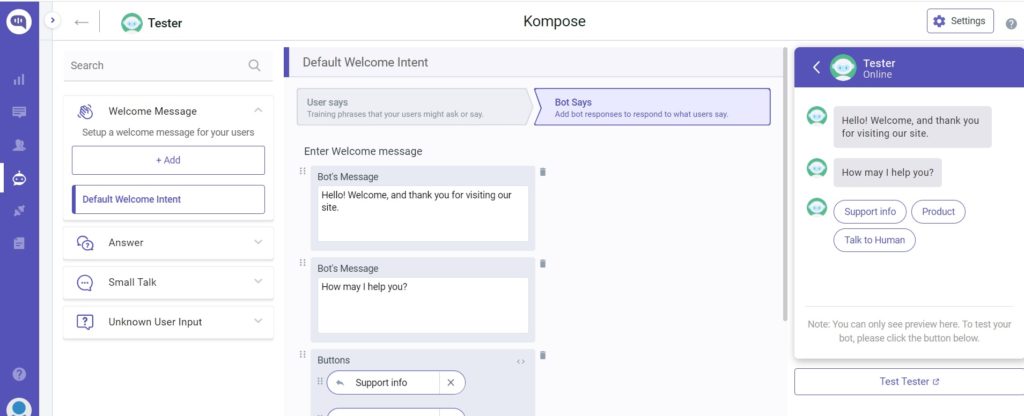 What we liked:
Kompose bot builder: Easy-to-use bot builder that lets you build a chatbot in a matter of minutes. It cannot get simpler than this!!
An impressive list of integrations.
Stellar customer support, available to you over the phone, email, and live chat, along with detailed documentation.
Kommunicate pricing:
Start: $40/month for 1000 Monthly Tracked Unique Users (MTU). Includes two teammates.
Grow: $100/month for up to 5000 MTU. Includes five teammates.
Business: Contact our sales team for more details of our plan.
For a detailed overview of Kommunicate's pricing, visit our pricing page here.
2. ChatGPT
ChatGPT is an advanced language model developed by OpenAI. Built on the GPT-3.5 architecture, it has been trained on a vast amount of text data from the internet, books, and other sources up until September 2021. This training enables ChatGPT to understand and generate human-like text responses in a wide range of topics.
As a conversational AI, ChatGPT is designed to interact with users through text-based conversations, providing information, answering questions, and engaging in discussions. It can be accessed through various platforms, including websites, messaging apps, and other interfaces, making it widely available for users to benefit from its capabilities.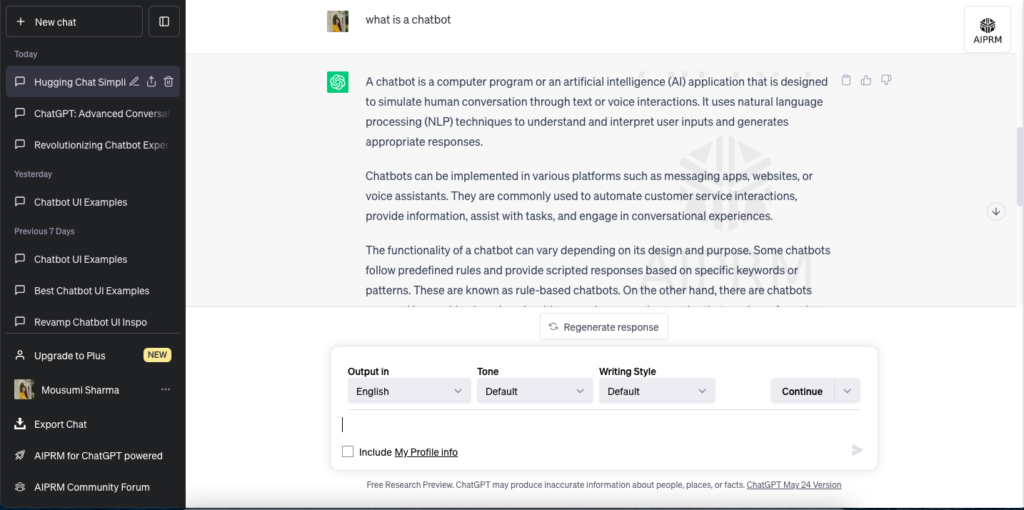 What we liked:
Generate coherent and contextually relevant responses.
It can grasp the nuances of language, detect sentiment, and adapt its tone to suit the conversation.
By analysing the input it receives, ChatGPT can generate informative, creative, and engaging text that mimics human conversation.
ChatGPTPricing:
ChatGPT Plus: USD $20/mo
3. Bard
Bard is an advanced language model developed by OpenAI. It is specifically designed to generate high-quality, creative, and coherent text, particularly in the form of poetry and prose. The name "Bard" is inspired by the traditional term used to refer to a poet or storyteller.
Bard is built on the gpt-3.5-turbo architecture, which is a variant of the powerful GPT-3 model. It has been trained on a wide range of literary works, including books, poems, and plays, to develop a deep understanding of language, style, and context within the realm of literature.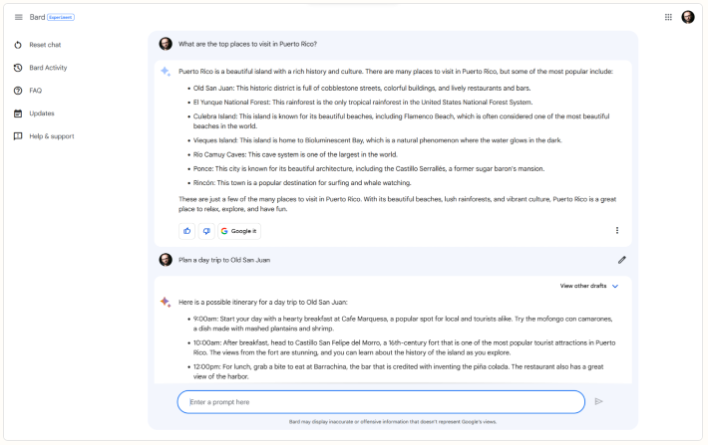 What we liked:
Its ability to mimic the writing styles of various authors and genres..
t can generate text that emulates the tone, voice, and structure of famous writers, allowing users to experience the feel of different literary styles
Bard Pricing:
Pro plan : $5/Month
4. Hugging Chat
Hugging Chat refers to the conversational AI models and tools developed by Hugging Face, an organisation focused on natural language processing (NLP) technologies. Hugging Chat offers various pre-trained models and resources for building chatbot applications and enabling text-based conversations.
Hugging Chat leverages transformer-based architectures, such as OpenAI's GPT (Generative Pre-trained Transformer), to provide powerful and flexible conversational capabilities. It includes models like DialoGPT, which is specifically designed for generating human-like dialogue responses.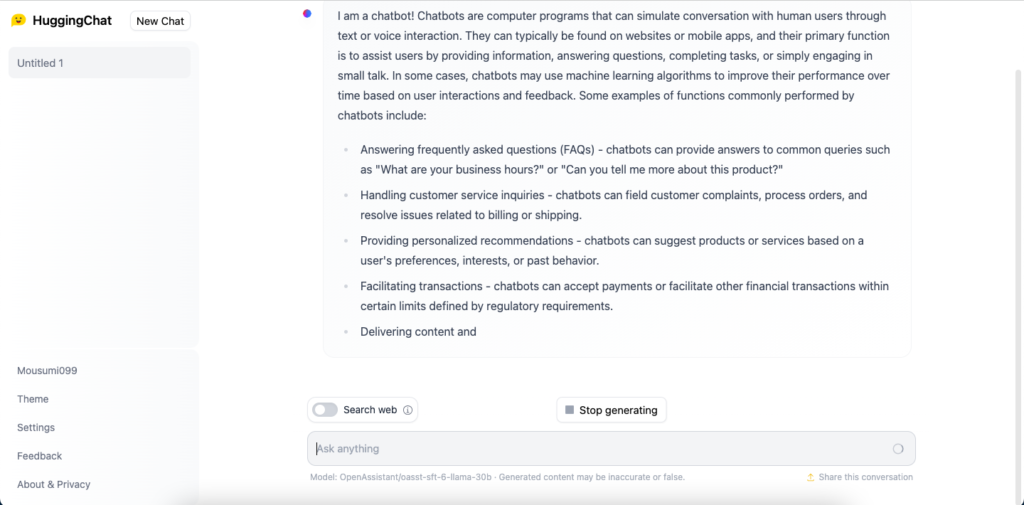 What we liked:
user-friendly interface and accessibility.
Hugging Face offers libraries and frameworks that developers can easily integrate into their own applications and services. .
Pricing of Hugging Chat
5. Kuki aka Mitsuku
One of the simplest chatbots when it comes to signing up, Mitsuku, aka Kuki, is an AI chatbot that is primarily here to entertain and not do any serious heavy lifting like the other bots on our list. But does that make Mitsuku a "simple" chatbot? Most certainly not. Mitsuku won the Loebner prize four times in the last decade alone.
What is, or rather was, the Loebner Prize? The Loebner Prize was an annual competition in AI that judged bots on how closely they could mimic a human conversation. We took Mitsuku for a spin, and we have to say, the bot was a delight to talk to.

Mitsuku uses the A.L.I.C.E (Artificial Linguistic Internet Computer Entity) and is built on the A.I.M.L (Artificial Intelligence Markup Language), and has more than 80 billion messages in its huge message log. This enables the chatbot to respond to any question asked.
What we liked:
Super easy to sign up and use.
The chatbot responded to a lot of our queries and was able to gauge the emotion of the user accurately most of the time.
Multi-platform compatibility.
6. Bot Penguin
There are a lot of no-code bot builder platforms on the list here, and Bot Penguin is one such chatbot builder where you can quickly build chatbots, primarily aimed at lead generation. You can train Bot Penguin's bots based on different target use cases. These use cases can vary from answering FAQs to lead generation, scheduling meetings, and even handling the sales counter.
Powered by Natural Language Processing (NLP), the bots powered by Bot Penguin can carry out conversations with users almost as a human would. Bot Penguin also comes with an agent chat interface where the agents can quickly take over a conversation as and when required.

What we liked:
Chat window on Facebook Messenger. This makes it a lot easier for the users to monitor their social media traffic.
CRM Integrations: Bot Penguin seamlessly integrates with a host of popular CRM solutions, including ZOHO, Hubspot, and Salesforce. This means you don't have to enter the leads manually into your CRM.
Pricing: To create a single bot, Bot Penguin charges you nothing. Even if you are going with the King plan at $5/ month, which gives you access to unlimited bots, it still works out as a value for money.
Bot Penguin Pricing
Free Plan: Free of charge. One bot and 2000 messages/ month.
King Plan: $4.17 per month. Unlimited bots and 3000 to 500,000 messages/month.
Emperor Plan: Should contact sales for price. Unlimited bots and messages.
7. Chatfuel
How easy is it to build a chatbot? There are several players out there in the market that claim to be truly codeless, and they are. But what sets Chatfuel apart is how easy they actually make it to build your own little chatbot. We were able to get up and running by building a chatbot using Chatfuel in less than 15 minutes, and even people who are unfamiliar with building bots can get up and running in a few clicks.
Chatfuel has a really clean interface, which is one of the key reasons businesses have been supporting it since 2015, when Facebook launched its Messenger API. You can use either the Visual Flow Builder or the Block Builder to build your bots using Chatfuel. Each block in the block builder represents a chatbot element, and you can combine different blocks to form "Sequences."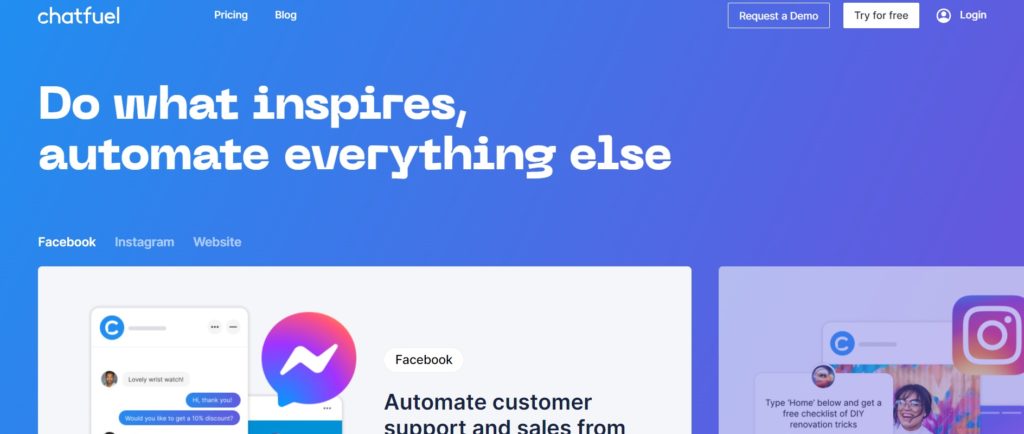 What we really liked:
Chatfuel interface: Minimal, clean, and very well designed, Chatfuel has left no stone unturned when it comes to providing a robust user interface. Every section in the dashboard is assigned to a specific purpose, which leaves you with a very good customer experience.
Different options to suit different customer needs: Chatfuel comes with an advanced level of personalization, having all the features of a chatbot. Keyword detection, automation choices, and the Chatfuel bot lets you build powerful bots that can go into different conversational pathways.
Affordability: Chatfuel is one of the most affordable chatbot platforms available in the market compared to all the other bot builders on our list. The pricing details have been mentioned below, and, as you can see, they are not so heavy on your wallet.
Chatfuel Pricing:
Trial Plan: Up to 50 free conversations for $0
Entrepreneur Plan: Up to 500 conversations for $15/month
Startup Plan: Up to 1000 conversations for $25/month.
8. Tidio
If you are someone who is just starting out with chatbots, having no previous experience coding or building one, then we highly recommend Tidio.
Tidio calls itself an "all in one, powerful, customer service tool," and we found that it delivered on many of the promises it made. Setting up Tidio is super easy. You just provide the basic information and select from one of the 21 languages available on the dashboard.
In the next step, Tidio will ask you if you want to offer a discount to a new visitor and greet them with a welcome message, and once that is done, you are good to go. The dashboard is simple enough to navigate through, and Tidio lets you easily set "offline hours" when you are no longer available for business.
You can customize the look and feel of the bot in a few simple clicks from the "Channels" tab in the dashboard and can place the bot anywhere on your screen. Tidio also lets you connect your Facebook Business page to your Tidio account in a matter of a few clicks.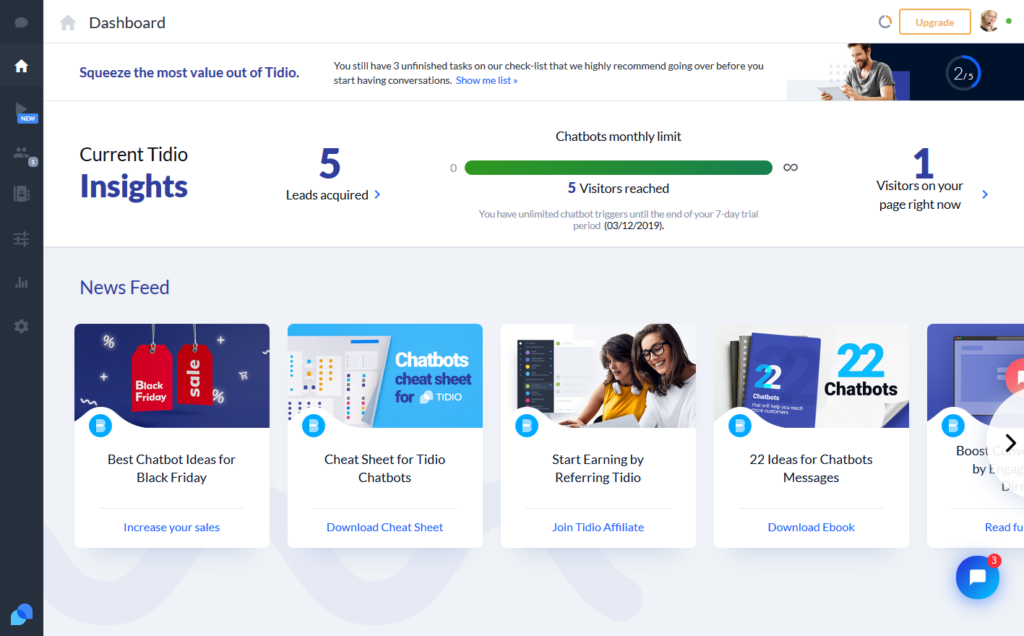 What we liked
User interface: Tidio offers a simple and intuitive interface and is especially useful if you are a first-time chatbot builder. They start out by asking a few basic questions, like " Ask them if they'd like to order a phone call," or "Just greet them warmly.". The visual bot builder is also a breeze to use.
Features: Tidio has a huge list of features, including a Live Visitors List, Customer Support Metrics, Live Typing, Canned Responses, Viewed Responses, and Notes, among others. Some of these features are only available with the advanced plans, though.
Integrations: Tidio has an impressive list of Integrations, including ones with Zendesk, Mailchimp, Instagram, Facebook Messenger, Zapier, Google Analytics, and Hubspot, among others.
Tidio pricing
Tidio has four plans for its users, including"
Free: $0 /month, includes two operators.
Starter: $32.5 /month, includes three operators
Team: $65.83/month, includes five operators
Scale: $332.5/month, includes unlimited operators
9. Botsify
Botsify is a fully-managed, AI-powered chatbot platform that lets you build powerful chatbots for specific use-cases. Claiming to have more than 4 million users and an impressive 83k bots built to date, this chatbot solution is popular among businesses of all sizes. Botsify provides different types of templates for different industries, such as travel bots or sales bots.
Instead of blocks, chatbots here operate in the form of "stories," and you can teach your bot to respond to queries that your customers might potentially have. More and more of these stories lead you to build story trees, and you can easily make changes to these trees from the user interface.
Botsify offers bot creation capabilities for a wide array of services, including messaging platforms such as Facebook Messenger and WhatsApp, SMS, WhiteLabel, and also Website chatbot.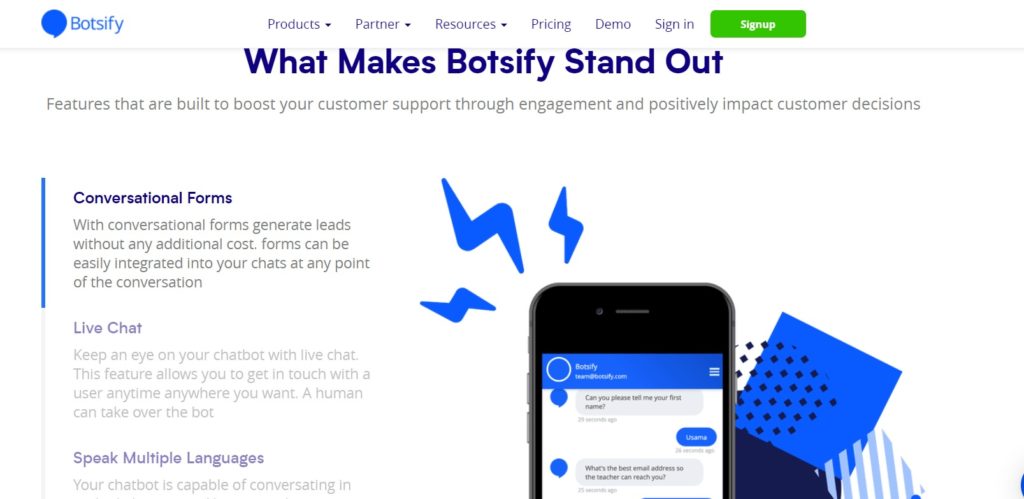 What we like about Botsify:
Ease of bot creation: The UI may not be as polished as some of the other bot platforms that we are featuring on this list, but Botsify makes it super easy to create a bot.
Collection of templates: Botsify lets you choose from a predefined list of over 24 chatbot templates, and this lets you customize your bot to a very high degree.
Impressive analytics: Botsify's chatbot analytics are quite impressive. You can have a real-time look at various metrics such as the bot with the most conversions, bots having the most conversational hours, etc.
Botsify pricing:
Free plan: 14-day free trial with unlimited chatbot users, analytics and reporting, and a dedicated account manager.
Do It Yourself: Plan starts at $49/month and gives you access to 2 chatbots and up to 5000 users per month.
Done for You: This plan starts at $149/month and gives you access to 5 chatbots and up to 15,000 users per month.
10. Aivo
Aivo markets itself as a customer service solution that gives you quick solutions, lets you manage your own time, . It also provides personalized answers to all your queries. Aivo has divided its offerings into three umbrellas – AgentBot, Engage and Live.
AgentBot is the conversational AI offering of Aivo that lets you grab the audience's attention. How? With personalized ads, measure customer satisfaction, and evolve using customers' experience on the site.
Engage lets you create WhatsApp campaigns. Without any code, you can drive high-quality conversations with customers at scale. This helps you craft effective marketing campaigns.
Live lets you add agents to your conversations with the customer and resolve complex customer queries in real-time. With Live, agents can offer more optimal solutions to customers in less time and also create customized customer support groups.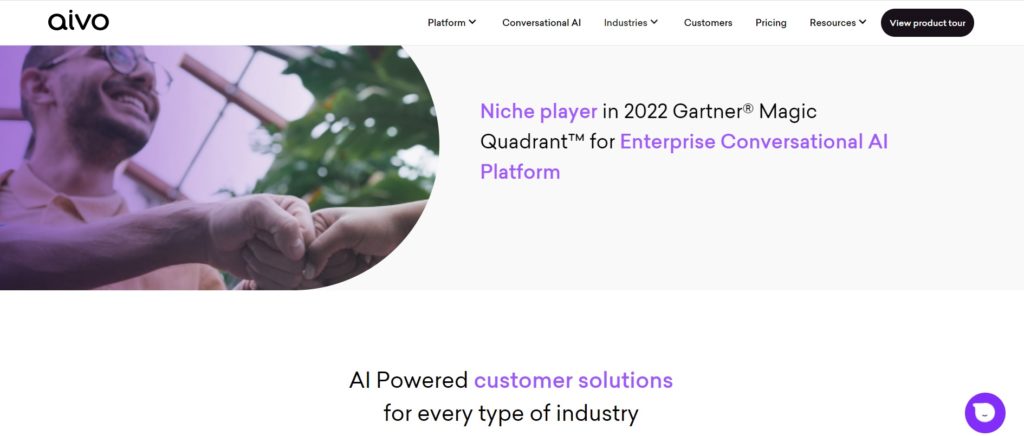 What we liked
Detailed analytics: Aivo comes with an agent monitor where you can see the details of each ongoing conversation. There is also a chat report which allows you to analyze the service content and quality.
Open to feedback: Aivo is always open to receiving constructive feedback and implementing them in its products. This has been re-iterated in multiple reviews online and customer testimonials.
Aivo pricing
Starter: $75/month plus an additional $0.18 per conversation. The starter plan includes features such as specialized CX analytics and unlimited live chat agents.
Advanced: $479/month plus an additional $0.15 per conversation. The advanced plan all the features of the starter plan and additional features such as conditional automation rules and satisfaction measurement.
Business and Enterprise Plans: To get more information about these plans, you need to contact Aivo's sales team. You can do so by visiting their pricing page here.

11. Pandorabots
The name Pandorabots might be familiar to you if you have been reading through this entire list, and it should be since these are the people behind Kuki/Mitsuku, which we profiled earlier. Pandorabots is an open-source chatbot framework with which you can build AI-powered chatbots for the web, mobile applications, and messaging apps like Slack and WhatsApp. Pandorabots is based on AIML(Artificial Intelligence Markup Language), which you can use to create sleek, conversational bots.
The "Chat Design" feature lets you visually create the questions and answers for your chatbot. There is, however, a minor catch when it comes to designing your chatbot flows. During this design, it is important to handle context, which may not be possible if you don't know how to code in AIML. Thus, creating a good chatbot in Pandorabots requires you to have a firm grasp of AIML. The conversations in Pandorabots are always initiated by the user, which is a drawback. Also, chatbots built using Pandorabots cannot handle multiple languages at the same time.

What we liked
Easy-to-use interface, Pandorabots provides both a visual editor for marketers and a code-based editor for hardcore developers.
Open-source framework, which means you can play around with the code of your chatbot. Really useful for those interested in customization.
Ability to understand the intent of the user and reply to it accordingly.
Pricing of Pandorabots
Free plan: Free of charge, no access to API or third-party channels.
Developer plan: $19/month for 10,000 channel messages/ month and only Email support.
Pro Plan: $199/month for 100,000 channel messages/month, with Email, chat, and phone support.
Enterprise plan: Varies according to users.
12. Manychat
If you want a chatbot builder that is tailored to meet your customers on Instagram, Facebook Messenger, or SMS, then you might want to check out ManyChat. Manychat boasts of some very impressive features such as message broadcasting, drip messaging, A/B testing, etc. The chatbot platform's user interface is quite sleek, with a dashboard that is super easy to use. There are two kinds of interfaces for building bots using Manychat – The Basic Builder and The Flow Builder.
The Basic Builder presents all the messages of a certain flow are organized and presented in a predefined order. This makes it easy to keep all your bot messages organized. The Flow Builder is more of a visual drag-and-drop bot builder that lets you connect your messages and actions with each other. This can get tricky if you have a lot of incoming content for your bot, but Manychat allows you to switch to Basic Bot builder any time while building the bot. With ManyChat, you can easily ask questions and save the user's response to a custom field. Using this, you can send broadcast messages to specific user segments.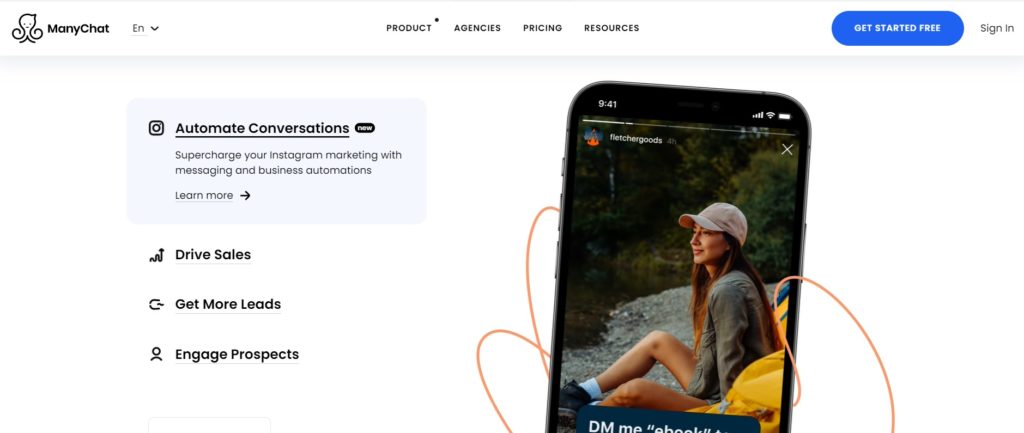 What we liked
Audience tab: This gives an overview of all the users who have interacted with your chatbot, which is really useful for your sales team when they make cold calls.
Well-organized Sequences: The sequences in ManyChat are very well organized, and you can see the entire sequence in one overview window. You can also see which sequence is sent out at which particular time, which is a neat feature to have.
Built-in live-chat integration.
Manychat pricing
Free plan: $0 charged, access to over 1000 contacts, and can collaborate with 1 team member.
Pro plan: $15/month, access to unlimited contacts, and can collaborate with unlimited team members.
13. WATI
If your customers are primarily on WhatsApp, then WATI is a solution that you should really keep on your shopping list. With WATI, you can set up a WhatsApp chatbot without writing a single line of code in a matter of minutes. WATI also lets you automate nurture sequences. This is an important marketing automation feature to have, considering the fact that WhatsApp messages have over 90% open rates. Another neat feature that WATI offers is Broadcast Messages. This comes with a catch, though, since you need to have an approved template before you send out a Broadcast message.
Broadcast messages on WhatsApp also come with interesting analytics, and you can see the details of your message like Sent, Opened, Read, Replied, Failed, etc., just like an email. WATI has integrations with E-Commerce platforms such as WooCommerce and Shopify, and they are adding more integrations as we make this list. WATI also has tools to assist your sales team, such as Cart Recovery. Now, if a customer has filled out their phone number while purchasing an item before dropping off, you can use WATI to remind them of their purchase. WATI also integrates with CRM such as Zoho, Hubspot, and Zapier.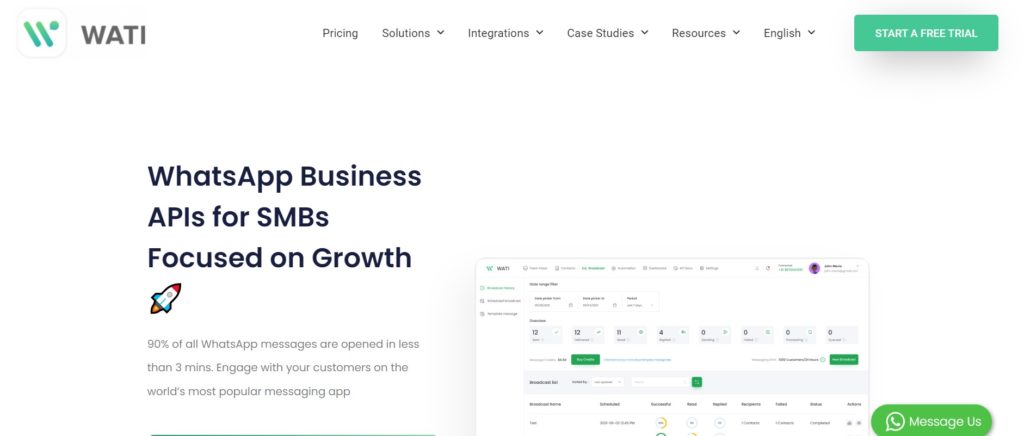 What we liked
Automated review of template messages.
The ease with which you can send customers notifications over WhatsApp.
Reports like how many people received messages and how many did not.
WATI pricing
Monthly plan: $49/month, which includes 1000 free conversations and five agents.
Annual plan: $40/month, which includes 1000 free conversations and five agents.
14. Chatbot.com
One of the oldest players in the market, Chatbot.com, is an all-in-one platform that can be used to build chatbots across multiple platforms. The interface of Chatbot.com is a visual drag and drop builder, which we have seen across many players that we have reviewed in this list. Each of the chatbot elements is called Interactions, and a single Story can have an endless number of interactions. Although the Flow builder makes it easy to build chatbots, it can also get a lot complicated if you are building large chatbots.
This is where Chatbot.com excels by providing access to additional Flows. When you click on a new Flow, it opens a new window, and you can start building your bot from here. Chatbot.com also gives you a standard "Test your Bot" feature, with an add-on that is quite interesting. You can start testing the bot from any random spot on the flow by clicking on the "Start testing from here." option. Chatbot.com also provides decent analytics, where you can see all the users who have interacted with your bot. You can see details such as the customer's time zone, the channel they used, their email address, and even add custom fields.
What we liked
Flow builder is so easy-to-use that you can be up and running with a bot in a few minutes.
Ability to store user info into custom fields.
Training section where you can see the phrases that your chatbot did not understand and then teach them to your bot.
Chatbot.com pricing
Starter: $50/month for 1 active chatbot and 1000 valid chats/month.
Team: $149/month for 5 active chatbots and 5000 valid chats/month.
Business: $499/month for unlimited active chatbots and up to 25,000 valid chats/month.
Enterprise: Contact chatbot.com here to know more.
15. Hubspot
The name Hubspot is synonymous with Inbound marketing, marketing automation, and, of course, awesome content. In fact, it was Hubspot's co-founder Brian Halligan who coined the term "Inbound Marketing" way back in 2005. But did you know that Hubspot also builds chatbots? In 2017, Hubspot acquired the company Motion AI and has been building bots since then, calling it Conversations. Hubspot also uses a visual chat builder, and there are four kinds of bots that you can build using Hubspot: Instant Reply Bots, Qualify Leads Bot, Book meetings bot, and Support bot.
When you click on one of these bot types, a chatflow is made with corresponding messages. Before your chatflow goes live, Hubspot also gives you an option to test it on Facebook Messenger. Hubspot does not give you the ability to send broadcasts or sequences, which can be seen as a major drawback. Hubspot chatbot does not provide any analytics options, and neither does it have any eCommerce integrations. With all this information, it looks like Hubspot just decided to offer a chatbot solution as an "add-on" and not as a serious tool to enhance your business capabilities.

What we liked
Easy-to-use interface if you are already used to the Hubspot interface.
Livechat integration, along with other important integrations such as Integromat, Webhooks, and Zapier.
Ability to make a chatbot in any language.
Hubspot chatbot pricing
Hubspot has a free trial version and then the starter plan at $45/month, although this price is for the entire Marketing CRM suite and not just the chatbot solution. The other pricing plans are also according to Hubspot plans.
16. Giosg
Giosg calls itself a Conversational Marketing Software that is designed to serve agencies and SMEs, helping increase conversion rates by a significant amount.
These bots can also be used to automate your support and sales functions. Giosg provides an impressive list of ready-to-use templates, including ones for FAQ bots, Demo bots, etc. Giosg uses an advanced Machine Learning (ML) Engine to learn and process the chat messages of users. It then stores them in a Knowledge Base and uses them to give meaningful replies to users' queries.
One of the major use-cases of Giosg is lead generation bots, which are known to be 4x more effective than static lead generation forms. The chatbot platform also integrates with your favorite CRM and marketing automation software, such as Hubspot, Zapier, Zendesk, Salesforce, etc., among others. In addition to these integrations, Giosg also has an open API which means further integrations, and building on top of Giosg is pretty straightforward.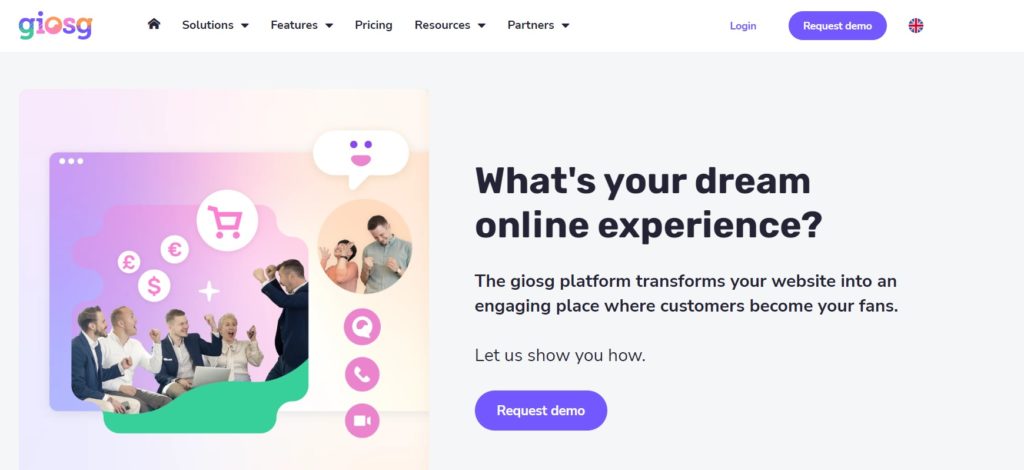 What we liked
A Knowledge base of responses that you can use to train your bot. You can use historical data and talk to the customers naturally using them.
An impressive list of integrations.
Real-time metrics that show you how many conversations the AI has automated.
Giosg pricing
Starter: €249 /month, which includes Live chat for one user and integrations with Facebook Messenger and Zapier.
Business: €459 /month, which includes everything in the Starter plan and access to the Full Template Library.
Enterprise: Details of this plan vary based on the user, and you can find out more here.

17. MobileMonkey
The last chatbot platform on our list comes recommended by none other than Neil Patel! MobileMonkey can be used to build chatbots primarily for websites but also for Facebook Messenger, Instagram and SMS. The chatbot flows in MobileMonkey are called "Dialogues," and the elements that are presented to the users are called "Widgets." MobileMonkey does not have a visual drag-and-drop Visual Flow Builder, which is a small hiccup. This is because if you have several options for your chat flow, these Widgets will get stacked under each other, and you can't get a clear overview of the bots you are building.
The way leads are presented in MobileMonkey is quite good, and once you click on a lead, it will display all the requisite details such as "Last Seen" and "Email address." Moreover, you can store users' responses in custom fields and then use these custom fields to create user segments. This helps in creating broadcast sequences. With MobileMonkey, you can also create a chatbot in a language of your choice. However, you cannot translate your chatbot to different languages.MobileMonkey provides good analytics with total contacts, daily contacts, and sessions, unanswered questions, and triggered keywords. There are also a total of 23 templates that you can use, all of which are free.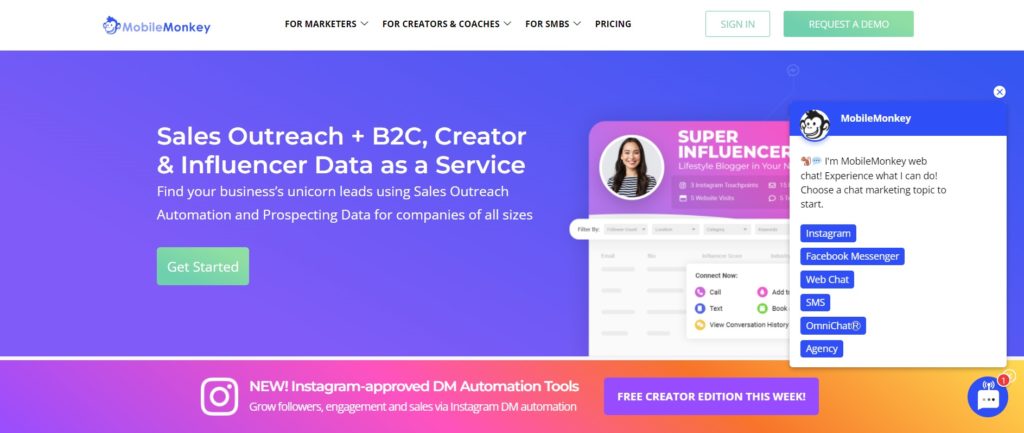 What we liked
A large number of pre-built ready-to-use templates.
Omnichannel widget. This marketing tool shows a Facebook Messenger widget when a user is logged in and a native website widget when a user is logged out.
Ability to analyse the questions to which the chatbot couldn't respond with an answer. With this, you can improve the chatbot by providing relevant answers.
Pricing
Instachamp VIP Edition: Free plan, includes 250 contacts and 10 MobileMonkey branding-free sends.
Instachamp platinum: $9.95/month, includes 1000 contacts and 500 MobileMonkey branding-free sends.
MobileMonkey Startup edition: $119/month, includes 3000 contacts and 1000 MobileMonkey branding-free sends.
And there you have it. 17 best ai chatbot builders profiled according to their strengths and weaknesses.
We had a tough time deciding which is the best one among these that suits your business. This is because each use case is different, and while some had good integrations, others provided good analytics options.
At the end of the day, we would recommend going with a best ai chatbot provider who gives you an all-rounded solution that gives you maximum value for your money; we would recommend Kommunicate that you can easily integrate with ChatGPT.
---
At Kommunicate, we are envisioning a world-beating customer support solution to empower the new era of customer support. We would love to have you onboard to have a first-hand experience of Kommunicate. You can signup here and start delighting your customers right away.