Last Updated on August 10, 2023
Table of Content
What is a Telegram?
Telegram has been growing in popularity since it was launched nearly a decade ago. The app has nearly 540 million users, 38% from Asia. The app offers a powerful alternative to WhatsApp and Facebook Messenger and claims to be more secure than both of these platforms. Speed and security are Telegram's USP.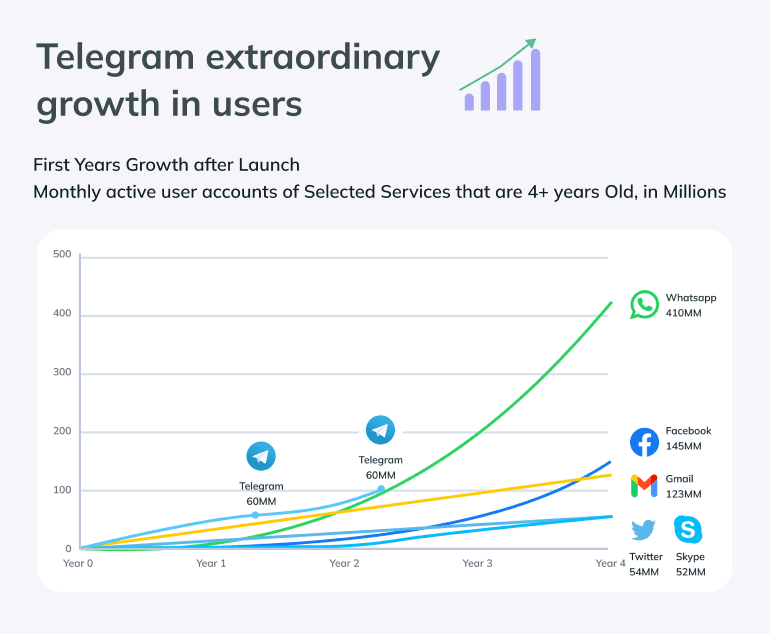 What is a Telegram Chatbot?
As the name suggests, a Telegram chatbot is a chatbot that lives on the Telegram platform and facilitates automated conversations between a human and a computer through the Telegram app.
The chatbot functions just like a human being with whom you are chatting using Telegram, with the only difference being that the responses are canned, and you might get the same response for similar questions.

Why use a Telegram Chatbot?
If a large percentage of your target audience is active on Telegram, then it only makes sense to use the platform to provide better customer engagement using chatbots. Chatbots can give replies to standard queries within seconds rather than days.
Telegram is considered one of the most secure messaging platforms thanks to its end-to-end encryption. This means customers will feel more secure dealing with a Telegram Chatbot than, say, a human agent. Telegram is available on Android, iOS, Windows, and desktop apps and also has a web version. This platform-agnostic feature of Telegram makes a strong case for creating a Telegram chatbot for your customers who may be using different devices.
How does a Telegram Chatbot work?
Just like an average person, a chatbot first analyzes what the user is asking for and then tries to give a response it feels best suits the situation. For example, imagine chatting with a Telegram bot of a restaurant. If you ask the question, "Can I see the menu, please?", the bot understands the word "menu" and returns the Menu to the user. While there may be a lot of programming magic behind all this, and we may be over-simplifying things, this is the gist of how a chatbot works.
Things bots can do for you (Telegram and other platforms)
Bots are not just middlemen between customers and your business. They have a host of functions:
1. Replace Complete Websites
There are Telegram bots capable of hosting complete web applications that are created with JavaScript. You can enable a flexible interface that can drive anything from games to online stores. Bots can support seamless notifications and authorization through Telegram out of the box.
2. Build Custom Tools
Bots can function as productivity tools when programmed to perform tasks such as chat management, file conversion, etc. Users can interact directly with chatbots or through channels and groups for added features.
3. Integrate with Other Services
Every popular platform has Telegram bots enabling users to access content in-app or execute searches.
4. Accept Payments
Bots can accept payments from over 200 countries, including Google Pay and Apple Pay. Such payments are accepted without commissions charged by Telegram
5. Host Games
Developers can use HTML5 to build single and multi-player games, letting users play socially online.
Pricing of Telegram Chatbot
The pricing varies depending on the chatbot builder you use. There are many chatbot builders available in the market, and a simple Google search will reveal that building a bot for, say, 1000 messages will range from anywhere between $17 a month to $37 a month. For most users, though, creating a chatbot is free, and all you have to do is search for Botfather and follow the on-screen instructions.
Without further ado, here are the steps involved in integrating Telegram with Kommunicate.
The integration presented in this blog post will teach you to:
How to Integrate a Chatbot with Telegram

.
How to integrate a Bot with Kommunicate.
Check out the video and create your own Telegram Chatbot
How to create a Chatbot
Open Telegram messenger, sign in to your account or create a new one. Add the steps for this also a telegram.
Step 1: In the search bar, search for @botfather
Note, official Telegram bots have a blue checkmark beside their name
Step 2: Select the botfather channel and click /start.
Click on the "Send" button.
Step 3: Select /newbot – create a new bot.
Step 4: Add a bot name to call (channuJan22Bot) and enter the bot name to display (kmJan22Bot)
Step 5: Copy the API key that is generated under "Use this token to access the HTTP API"
How to Integrate a Chatbot with Telegram
Open Your Kommunicate Dashboard
Step 1: Click on Integrations
Step 2: Click on the telegram card setting link
Step 3: Paste the API key into the Telegram integration card from the Kommunicate Dashboard and click the "Integrate" button.
Step 4: Go to the channel you have just created (kmJan22bot) in Telegram and start a conversation.
You can now receive messages in the Kommunicate dashboard.
---
At Kommunicate, we envision a world-beating customer support solution to empower the new era of customer support. We would love to have you on board to have a first-hand experience of Kommunicate. You can signup here and start delighting your customers right away.