Last Updated on February 8, 2023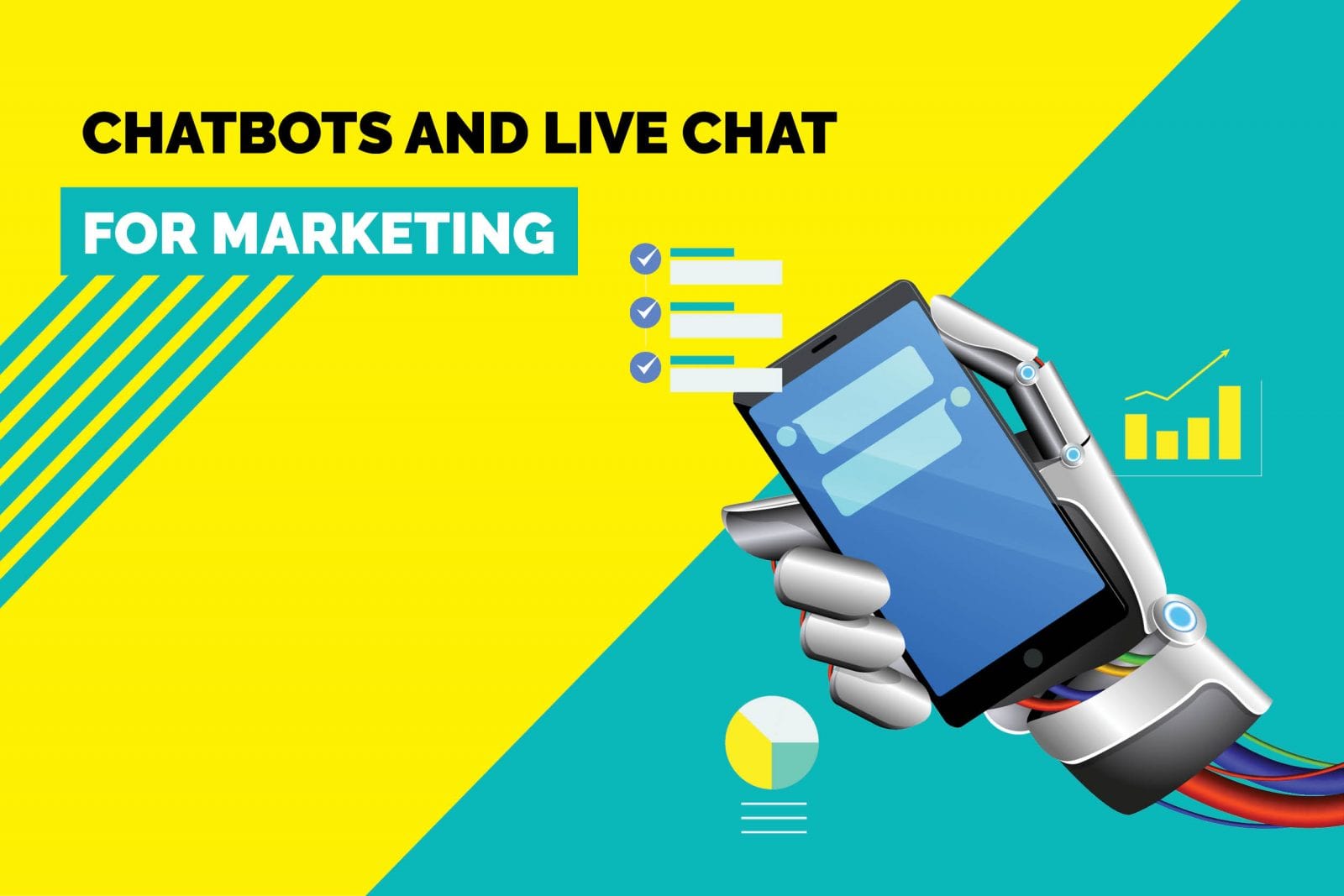 Did you know that your customers want to have a one-on-one conversation with you? Yes, that's right. They want to communicate to you directly and seek quick answers to their questions and requests.
This is also one of the main reasons why conversational marketing is becoming increasingly popular among online businesses. It's a feedback-oriented approach to marketing that involves providing a personalized experience by communicating with the customers one-on-one.
With more and more people seeking instant gratification, you just can't provide your customers with online forms and follow up with them several days later. No one is going to wait for your response, so it's an awful and outdated way to deliver that much-needed value to customers.
With customer experience being number one business opportunity, you just can't afford to fail to deliver quick and detailed answers and personalized experience to your target audience.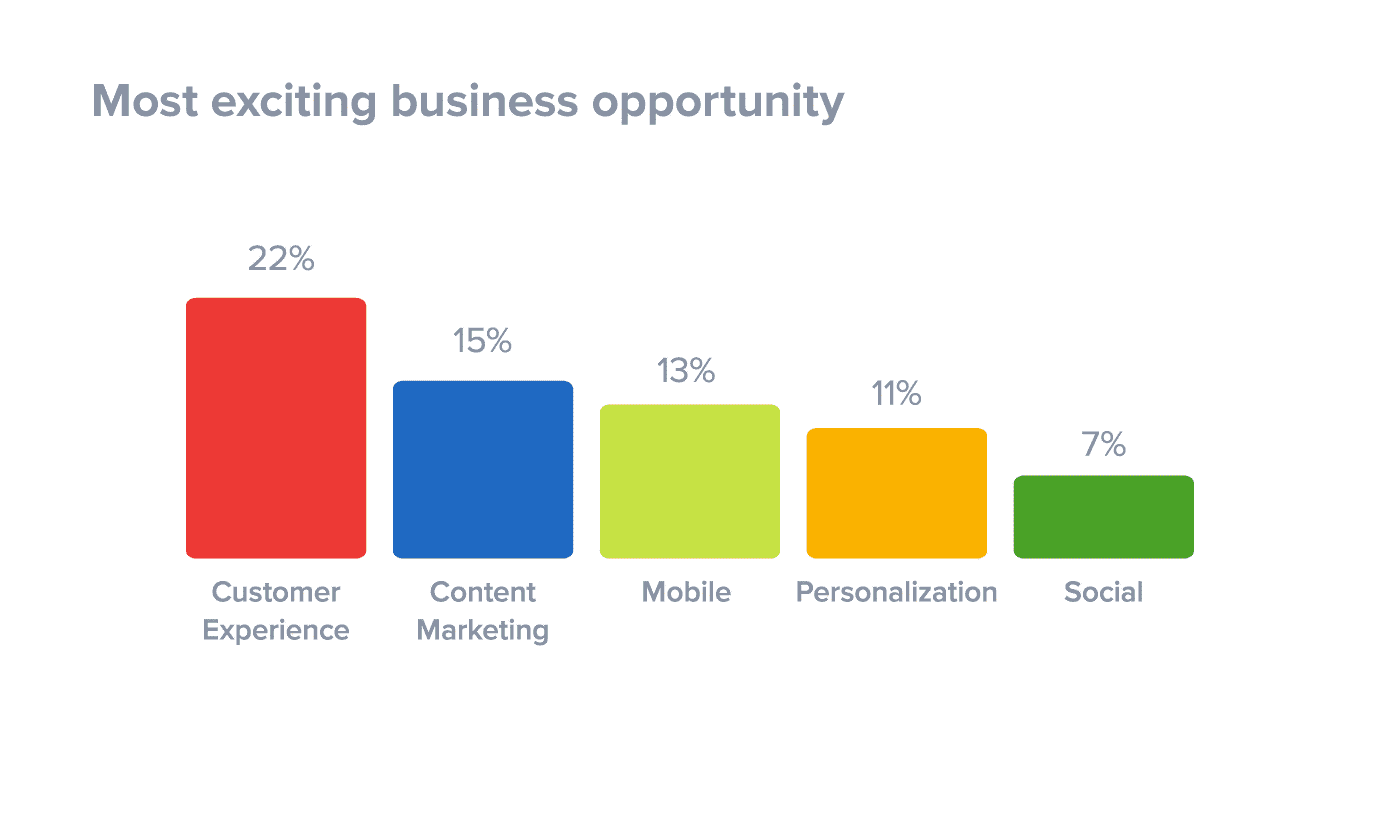 Source: Super Office
Lately, conversational marketing has become so important in delivering great customer experience. With the advent of chatbots and live chat, marketing has new, personal and instant channels to explore. You may be wondering what it is and how to take advantage of it to advance your brand.
In this article, we're going to give you answers to these questions. Also, we will be sharing examples of brands successfully using this new and exciting approach to marketing.
Bonus: Build your first custom bot with our codeless bot builder.
What is Conversational Marketing?
Conversational marketing is the application of chatbots and live chat to cultivate positive and genuine relationships with your audience.
Today, most businesses are using live chat and chatbots in marketing to let customers engage with them. Customers can engage in one-on-one conversations and have their questions answered in real time, which is something people truly need and look for.
Let's talk a little bit more about these two effective conversational marketing tools.
Chatbots
Chatbots are artificial intelligence (AI) based applications that simulate conversation of a human being via text or voice. They allow to address questions in real time and use pre-programmed responses to answer queries.
Why chatbots are the future?
Recent years have seen rapid adoption of chatbots across a wide range of industries because of their extraordinary ability to address customer requests quickly and effectively. According to Statista, the size of the chatbot market resembles this remarkable growth.
For example, the revenue generated by the market in 2016 was $190.8 million, which is an impressive figure, but not as impressive as the prediction for 2025, when the market should hit $1.25 billion.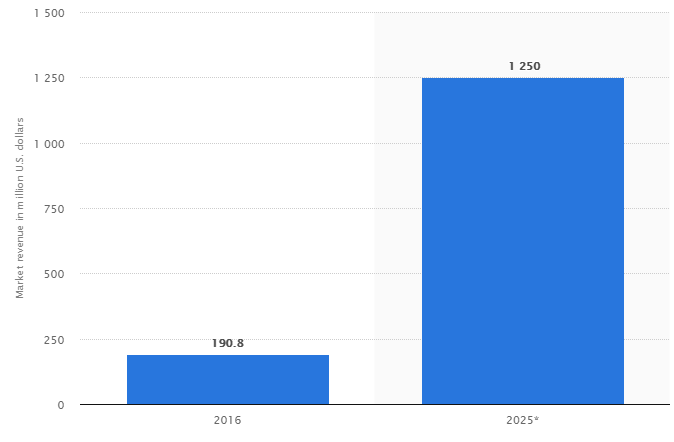 Source: Statista
Such a significant growth suggests that more and more businesses will invest in improving their online marketing and customer service with chatbots (this also means that not having a chatbot may result in a competitive disadvantage).
The list of potential uses and benefits of chatbots is quite amazing. As the 2018 State of Chatbots report showed, these tools can be applied by online businesses in many ways which provide great benefits.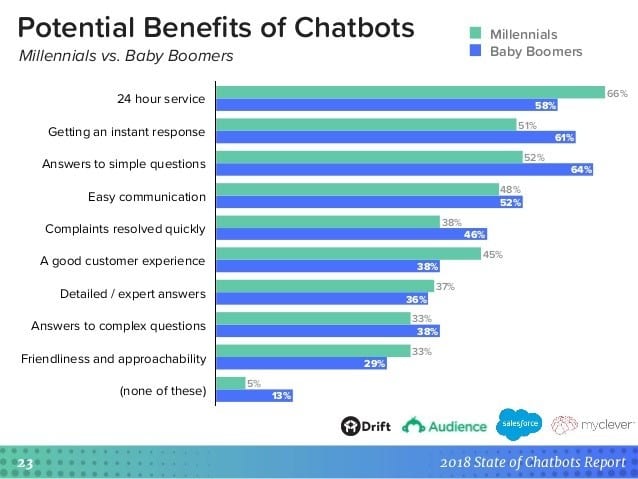 As you can see, some of these benefits are directly related to improving marketing and overall customer experience with online businesses.
For example, qualifying website leads, collecting user information, being available 24*7, instant response, and giving answers to both simple and complex questions are critical. They enhance customer experience, minimize friction, save manhours, and develop positive relationships by providing useful, contextual content based on individual requests.
Live Chat
Live chat allows website visitors to talk to a support member or a business representative directly. Like chatbots, live chat also enables real-time communication and allows to save tons of time.
"The most important difference between these two tools lies in the fact that there's an actual person communicating with you," explains Chelsea Ann Dowdell, a content manager from RewardedEssays. "This means that you can ask any questions, no matter how complex they are. A chatbot, on the other hand, cannot deliver such value."
No wonder the majority of digital customers prefer live chat over other online communication channels to interact with businesses.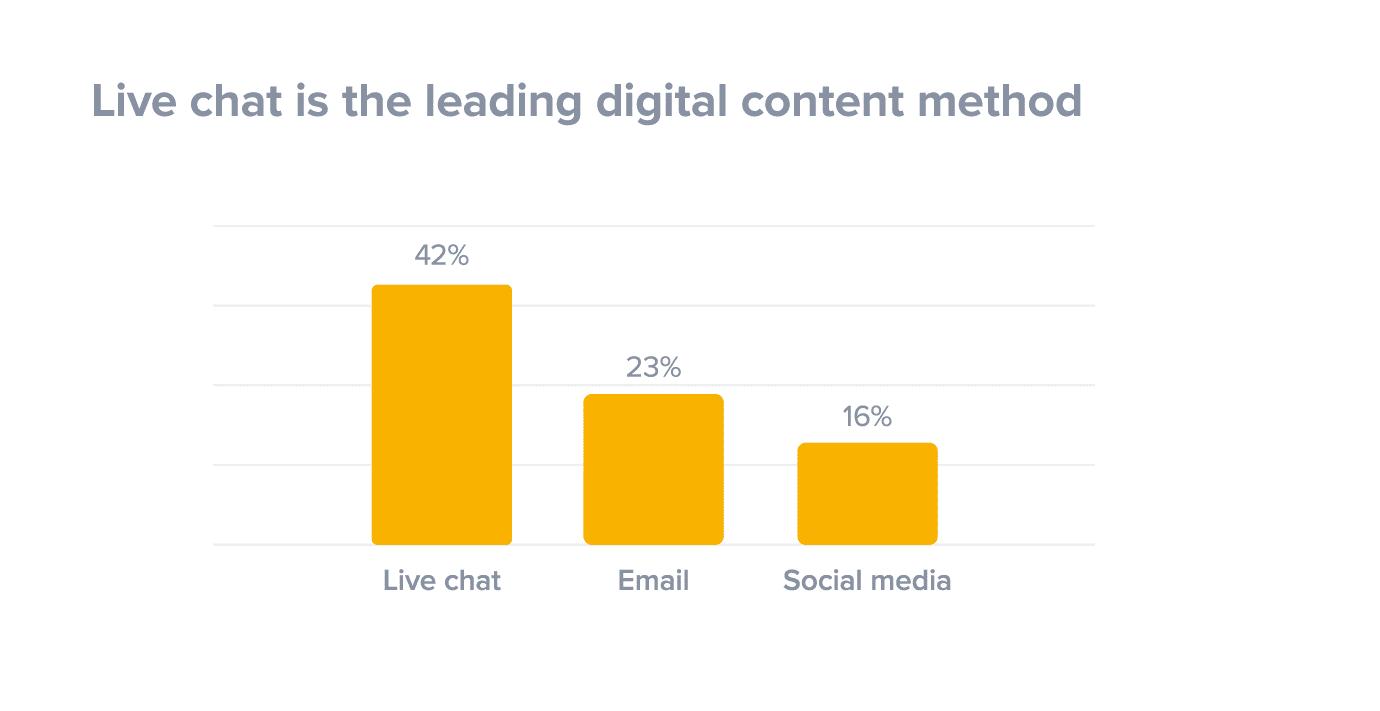 Source: Super Office
Such popular communication channels as social media and email cannot even compete with live chat, and for a good reason. It's the most effective method in terms of resolving support requests, meeting growing customer demands, and keeping customer experience personalized.
Unsurprisingly, live chat delivers the highest customer satisfaction rating compared to other communication channels, including phone!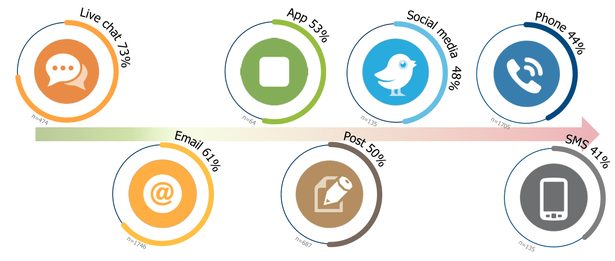 Source: Econsultancy
Now that we know enough about chatbots and live chat for enhancing the customer experience, let's explore their uses in conversational marketing.
Application of Live Chat and Chatbots in Marketing
If someone visits your website and has trouble with finding what they need, they can turn to a chatbot or a live chat. Moreover, these tools can be especially helpful in case a customer has a specific request. In this case, asking a question would be a much faster way to get an answer.
Live chat to help make a buying decision
For example, let's suppose you're looking for a full-bodied, tasty red wine for your birthday celebration. There are multiple ways that you can go about getting professional advice on selecting the best option:
Ask someone who has a good knowledge of wine and can give you a recommendation

Ask your questions to a wine selector chatbot (you can easily configure one with Dialogflow and Kommunicate)
Contact an expert on the wine seller's website via live chat and get a recommendation.
As you can see the 3rd and 4th options are essentially a combination of the previous two ones. Moreover, they eliminate the need to look for a knowledgeable person or spend hours browsing the internet.
Live chat or a chatbot is an excellent tool to meet customer needs instantly. For example, here's how The Wine Society does that. A visitor of their website who is looking for red wine recommendations is welcome the live chat option (shown in the bottom right corner of the screenshot below).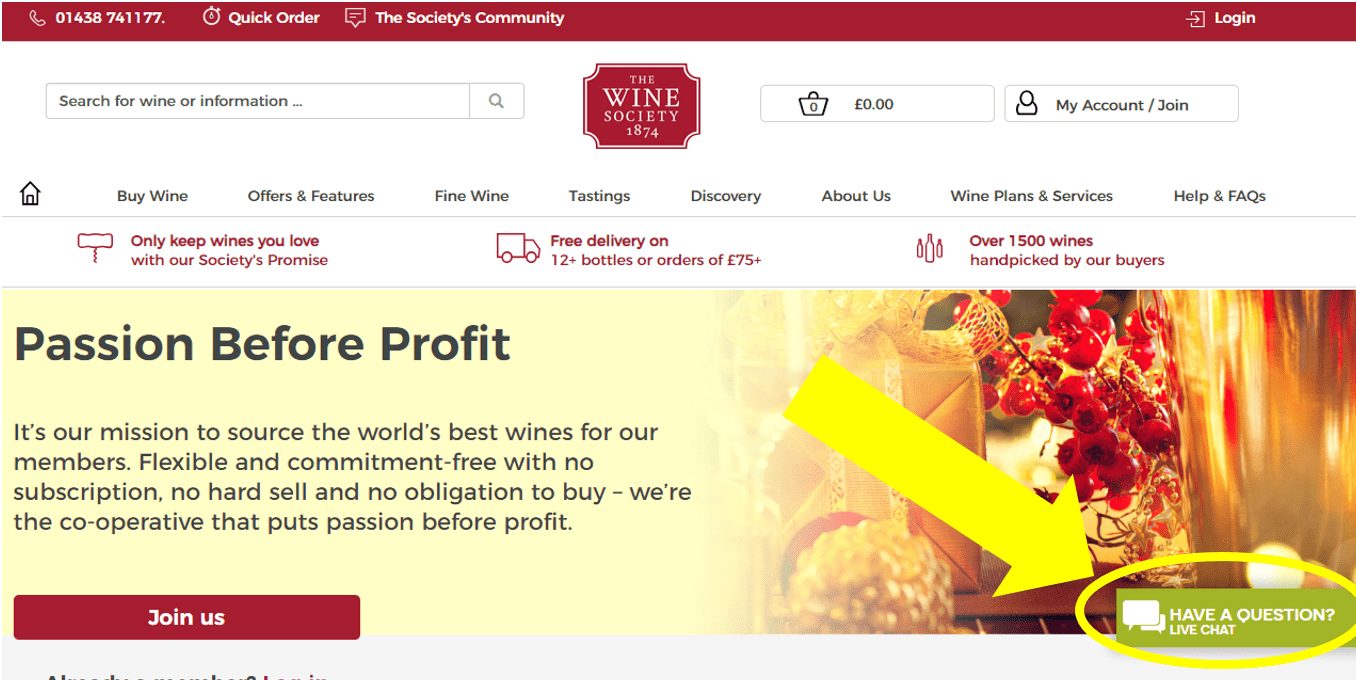 Thus, by using a live chat, The Wine Society also collects information that allows them to build a sales pipeline full of qualified leads.
Isn't that awesome? Let's not forget that this is an excellent way to provide personalized customer experience, too.
You can easily put up a live chat on your website, just click here.
In my experience, it took less than a minute to connect to a support agent, and he was incredibly helpful in getting our question answered and recommending some great wine options. This is a positive customer experience and an excellent example of conversational marketing in action, indeed.
Chatbots assisting in providing a better experience
Although chatbots can't resolve all customer requests, they can be incredibly helpful. For example, DRU (Domino's Facebook Messenger bot), allows a text- and voice-based chat to perform a wide range of useful actions.
DRU can show you the latest offers from in a specific area, check out delivery & pick up deals and discounts, get recommendations and lots of other helpful information.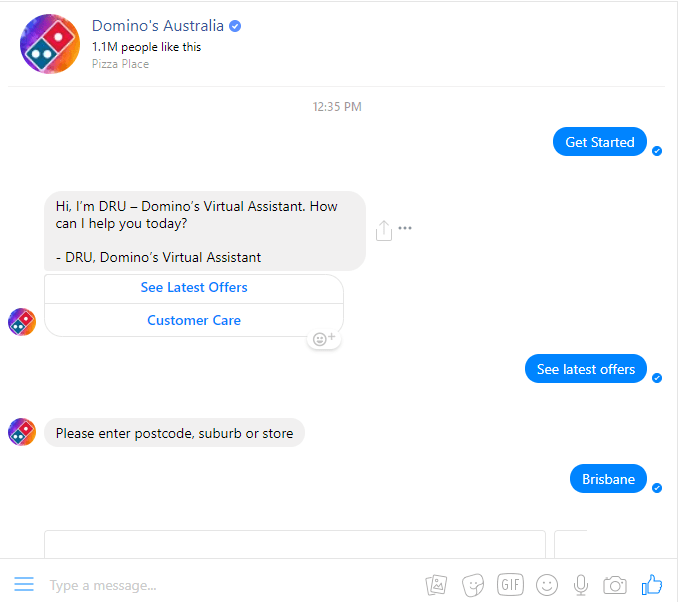 When faced with a question it can't answer, DRU redirects the matter to one of the support team members (a game-changing process called bot to human handoff). As you can see on the below screenshot, the chatbot left easy-to-understand instructions for the user on how to get further assistance.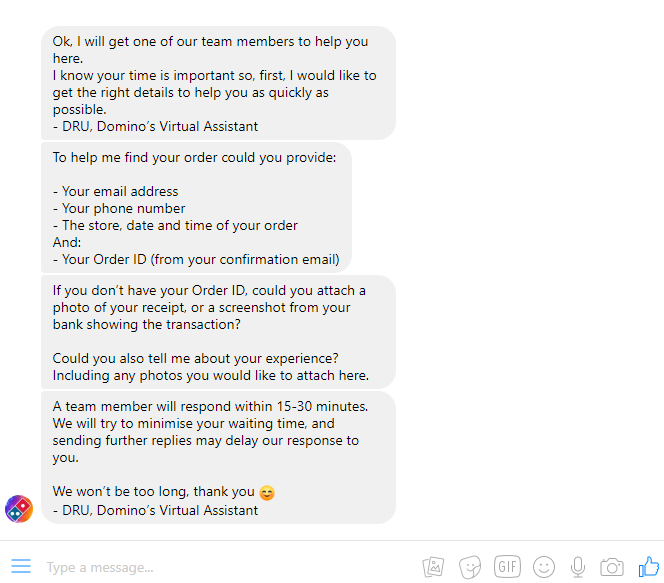 According to DRU, the support team will respond within 30 minutes, which is a reasonable time.
Essentially, every customer using DRU could have their questions answered. Either by DRU itself or a human support agent. Undoubtedly, this shows a great effort of Domino's to make every customer satisfied with their overall experience.
Evidently, chatbots can be very helpful at providing answers to customers, but their ultimate success depends on how you write the script they'll use to communicate. This is also called conversational UI writing and involves a number of engaging chatbot dialogues.
Benefits of Conversational Marketing for Online Businesses
Let's now do a quick recap of the benefits of conversational marketing for your business and customers.
Provide answers in real time

. In many cases, customers require urgent answers, and live chat and chatbot are perfect for delivering them. No more waiting and unnecessary stress, folks.
Collect customer data

. To connect with a business through a live chat or a chatbot, a customer needs to provide some data, such as an email address or a social media profile. This means that you can gather useful information about your customers and plan your marketing and offers accordingly.
Make your brand more human

. Yes, it may sound strange, but chatbots can help your brand to sound more human because they use simple, conversational language that internet audiences prefer (the same applies to live chat, obviously), and avoid being pushy with marketing offers and other requests.
Personalize communication with customers

. Customers want to be treated as individuals because they have unique needs and wants. A chatbot or a live chat is an excellent tool to meet this requirement because it can solve an individual problem on demand and use collected information for a follow-up and further personalization of communication.
Provide content to nurture leads

. This applies mostly to chatbots. Many people perceive them as tools built solely for customer service. But they can provide much more in the buyer's journey. They can help send personalized, relevant content and offers to customers. Which in turn moves them forward in the buyer's journey.
For example, here's how MeditateBot (a chatbot that encourages daily meditating practice) promotes the brand's app in a non-pushy way. The bot inserts the message about the app in the conversation, making downloading it relevant for them.
Chatbot example :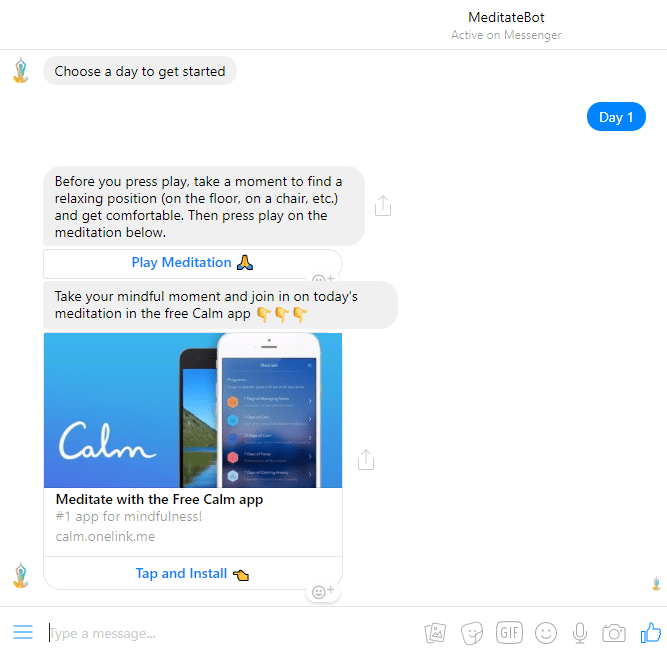 Final Thoughts
Conversational marketing is a relatively new approach to marketing. But it is quickly becoming an essential way to connect with target audiences and improve their customer experience. Already, it has an appreciable impact on online business. It makes a perfect sense to get to know what it's all about and consider adopting it for your brand.
Since customers want quick and direct communication with online businesses, using live chat and chatbots is the way forward. This, in turn, delivers numerous benefits, including leads and more loyal customers.
Moreover, it can help to improve the personalization, mine valuable customer data, and enhance your online availability.
Hopefully, this article gave you the information you need to start giving your customers a personalized value they're looking for and saving precious time and resources at the same time. Happy converting!
Suggested Read: Mistakes to avoid while using chatbots for marketing
---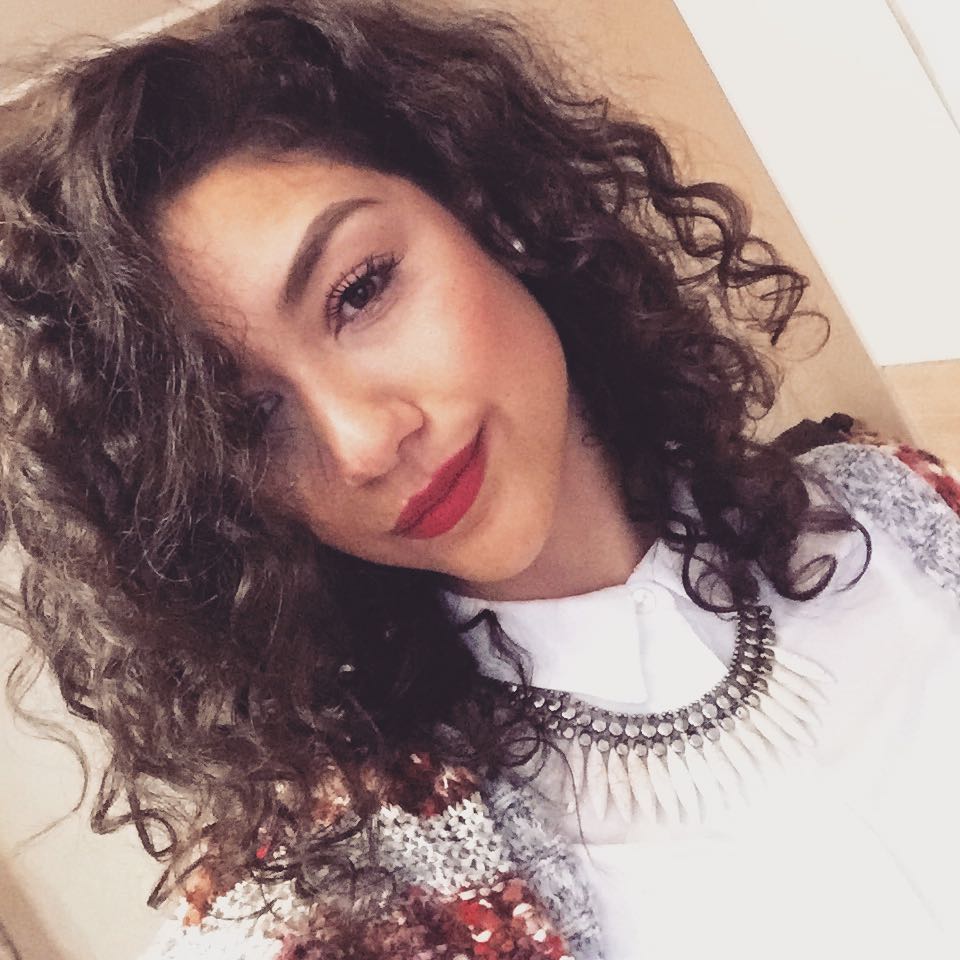 This post is written by Bridget Hernandez. She has a Master's degree in Anthropology and is a blogger for HotEssayService. Bridget is passionate about writing and has her first book in the works right now. In spite of being a recent graduate, she has already established a strong reputation as a writer who can present text in a creative and understandable manner.
---
Subscribe here to get the good stuff — we solemnly swear to deliver top of the line, out of the box and super beneficial content to you once a week.
At Kommunicate, we are envisioning a world-beating customer support solution to empower the new era of customer support. We would love to have you on board to have a first-hand experience of Kommunicate. You can signup here and start delighting your customers right away.