Last Updated on October 20, 2023
Businesses today are more connected than ever to their customers. WhatsApp for business addresses this market segment and is today used by more than 5 million business users.
WhatsApp Business allows companies to quickly reply to their customers, create labels to categorize their products easily, and are constantly on the lookout for making shopping more user-friendly.
We have talked about how easy it is to create a WhatsApp chatbot and integrate it into your website, where we walk you through all the steps required to build a WhatsApp bot using Kommunicate and then connect your WhatsApp Business account to this chatbot.
In this blog post, we go a step further and tell you exactly how you can set up the 'Autoreply ' feature in WhatsApp so that your customers can enjoy a seamless experience.

Learn more about Whatsapp Chatbot
What is the Auto Reply feature in WhatsApp?
Auto Reply was a feature introduced by WhatsApp to enable small businesses to define clear business hours. Auto-reply allows you to send automated messages to your customer when you are not personally available to answer customer queries. This is a useful little feature that enables you to be there for your customers 24*7.
The Auto-Reply feature is not available on your regular WhatsApp account and needs a WhatsApp for business app downloaded to work.
How do I set up auto replies in my WhatsApp account?
You can set up Auto replies in your WhatsApp account in two ways. These are:
Using WhatsApp Business
Using WhatsApp's Business APIs
We will give you a brief walkthrough of both these steps so that you are well-equipped to deal with how to set up Auto Reply on your WhatsApp account. Let's start with using WhatsApp Business.
Set up Auto Reply using WhatsApp Business
Setting up an Auto Reply on WhatsApp Business allows you to be available to your customers even during hours you don't normally operate. The customers may only interact with your business at a convenient time, so being available 24*7 or at least close to that timeframe shows them that you really want their patronage.
There are several ways you can customize your Auto Reply messages on WhatsApp, depending on the timings in which customers get a system-generated message or the people who get the 'Auto-reply' messages.
You can choose if a single 'Away' message is being sent to all your customers or if you are tailoring the message to a specific set of customers. You can also choose the hours during which this 'Away' message is triggered, and the recommended hours are the ones during which your business is closed.
There are three main components to the 'Auto – Reply' feature on WhatsApp Business –
Away message
Greeting message
Quick Replies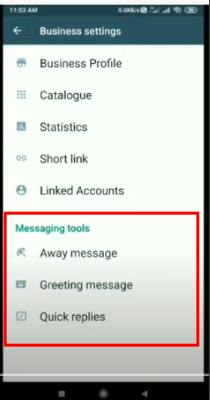 Here is the step-by-step process to set up the "Away" message on WhatsApp Business.
Tap the three vertical dots on the top right corner of the screen. From here, click on "Setting." Then click on "Business Setting."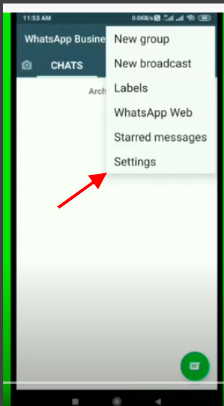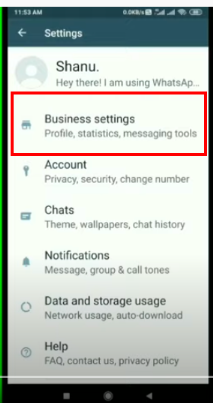 This will bring up the Messaging tools section, and you can then choose between the "Away Message," " Greeting Message," and "Quick Replies," among others.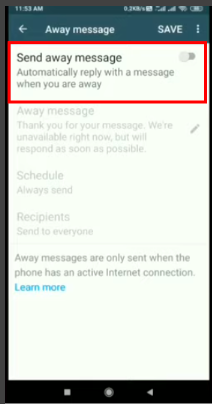 Select the "Away message" option and then toggle on the "Send away message" option. Scroll down, and you get the option to edit the Away message that you want to send out to your customers.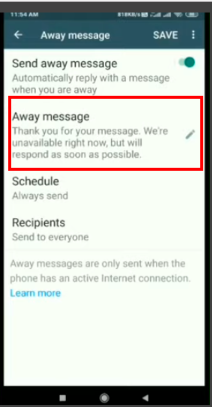 You can edit this message to your liking. Type in something like, " Thank you for your message. We are unavailable right now but will respond as soon as possible.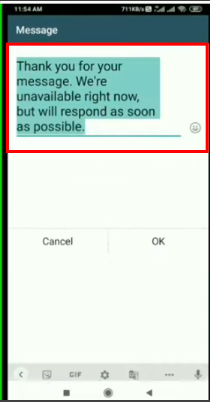 Once you are done editing the message, you need to schedule it next, depending on when you need your messages to be deployed to your customers.
There are three Schedule options you can choose from:
A. Always Send: If you are planning to be away from your business for extended periods of time, say a few days to a week, you can set this option to let your customers know that your replies will be delayed by a lot of time. These scheduled messages will be regularly sent to your customers until you return to the office and manually disable them.
B. Custom schedule option: When you know you cannot answer customer queries for a particular duration, you choose the 'Custom schedule' option. This is akin to putting an 'Away' sign on your seat when you have gone out on a break or for lunch. During the scheduled time, the "away" messages are active, and your customers get an automated message saying, "Our support executives are away at the moment, but they will be back by 2 pm to answer your queries." You need to specify the Start time and End time when you choose this option.
C. Outside of Business hours: As the name suggests, this scheduling option is to be used when a customer's message reaches you after you have closed down for business during a particular day. This is based on the timings you have provided while setting up your WhatsApp for Business profile. If a message lands in your inbox after these hours, an away message is automatically triggered and sent to the customer.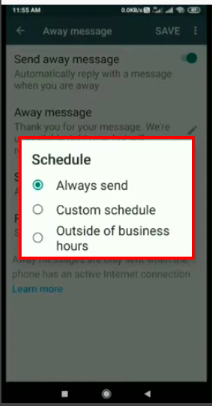 Select the Recipients
Once you know what schedule you want to send your 'Auto Reply' messages to, you can then select the recipients who will receive these messages. These could range from:
Everyone: This will trigger the automated message to be sent to everyone in your address book, who tries getting in touch with you when you are away from your business / after business hours.
Everyone not in address book: The auto-reply will only be sent to people who are not a part of your address book. This is especially useful if you are trying to nurture new customers for your business.
Everyone except: This option will trigger the automation to send 'Auto replies' to all your contacts except a few that you have selected.
Only send to: Auto replies are only sent to contacts you have checked in this case. This feature becomes useful when contacting new customers whose numbers may not be part of your address book.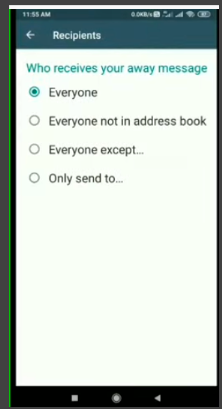 Set Up Auto Reply Using Whatsapp Business API
We now know how to set up Auto Reply on a WhatsApp Business, but what if you have a chatbot on WhatsApp that is answering customer queries for you 24*7?
In this section, we will teach you how to set up "Auto-Reply" for Chatbots in WhatsApp, Also to build a chatbot using a tool such as Kompose ( Chatbot Builder). But before we delve deeper, let's see how exactly a chatbot built using WhatsApp API can help your business.
You see, WhatsApp Business can only act as a gatekeeper, telling your customers if you are available at a particular time or not. But with WhatsApp APIs, you can talk to the customer and resolve their queries so that they purchase from your website.
The chatbot can answer all the low-level questions, and if you are available, you can easily transfer the chat to you seamlessly so that the customer does not know if they are talking to a chatbot or a human.
A chatbot is thus the zenith when it comes to Auto Reply on your WhatsApp for your business.
Here are the three steps to set up Auto Reply for WhatsApp chatbot.
Step 1: Talk to us
At Kommunicate you can use Kommunicate's chatbot builder Kompose and build a chatbot in a matter of minutes. Also, you can reach out to us, and we will guide you through the necessary steps to set up your WhatsApp chatbot.
Step 2: Get your WhatsApp Business API
Before connecting your WhatsApp number to your chatbot, you need a WhatsApp Business API. You can get WhatsApp API through partners that WhatsApp has designated. 360 Dialog is a WhatsApp partner with whom Kommunicate has teamed up. Once you complete a few steps that we have mentioned, you get a number which is the Dialog 360 API key, which you can use to connect to your Kommunicate account.
Fill the form: https://hub.360dialog.com/lp/whatsapp/rKRgFhPA
Share the following details with us at support@kommunicate.io

Whatsapp Number (whatsappSender)
DIALOG360 API KEY (d360ApiKey)
Account Namespace (d360Namespace)
Your Kommunicate account APP_ID, Click here for APP_ID
Step 3: Integrate WhatsApp API to Kommunicate
Once you provide your WhatsApp API key to the Kommunicate team, all you have to do is sit back and relax as we connect your Kommunicate account to your Dialog360 account.
All of the functions of Kommunicate can now be used by you on WhatsApp. These functionalities include the ability to build a chatbot without needing to know how to code, and use interactive Rich Messages on WhatsApp, like buttons and catalogs. You can also collect user information and watch all the analytics in the Kommunicate dashboard. Also, you can send template messages like order updates, marketing notifications, etc.
Furthermore, you can also use Live Chat with your customers, and one number can be used by all the teammates to provide round-the-clock support.
Disadvantages of WhatsApp Business
WhatsApp Business does come with a few drawbacks. Some of them include:
WhatsApp Business cannot be used to generate leads or act as a backup to your dedicated support team.
It requires an active internet connection.
Small businesses are the target consumer for WhatsApp Business.
WhatsApp business only works during predefined off hours.

WhatsApp Auto Reply samples/Examples
Here are a few samples where we put WhatsApp's Auto-Reply feature to use:
Out of Office / Holiday Auto Reply
Hello there.
Thanks for reaching out to <BUSINESS NAME>. We are currently closed for the holidays but will be back open for business from New Year's Eve. If your enquiry is of an urgent nature, you are free to contact our customer service team on the toll-free number.
With warm regards
<Team BUSINESS NAME>
Out of Office -2
Hey,
Thank you for your inquiry. As you may know, it is the holiday season, so we are closed to rest and rejuvenate. But we haven't forgotten you and will get back to you once our office reopens on <OPENING DATE>. We thank you for your patience.
Yours
<BUSINESS NAME>
General Auto Reply
Hi there,
Thanks for reaching out to <BUSINESS NAME>. We have our hands full at the moment, but one of our executives will get back to you as soon as possible. In the meantime, feel free to drop us an email <EMAIL ID> or call us on our number <PHONE NUMBER> if you need urgent assistance.
Yours,
<BUSINESS NAME>
General Auto Reply 2
Hello,
Sorry for the inconvenience, but we are unable to respond to your query at the moment. We will respond to you as soon as one of our customer support agents becomes available.
If you need urgent assistance, feel free to contact us on <CONTACT NUMBER>.
Yours truly
<BUSINESS NAME>
Summary
Auto Reply is a feature of WhatsApp enabling small businesses to define clear business hours. You can do this by sending automated messages to customers during off-hours.
You need to download the WhatsApp Business app for Auto-Reply to work. Also, you can set up Auto replies in your account through WhatsApp Business and WhatsApp's Business APIs.
While WhatsApp's Business only acts as an auto-responder, WhatsApp APIs help resolve customer queries. Customers can even make purchases through your website.
Kommunicate can help you set up your WhatsApp chatbot without using any code.
Here's a quick video of Integrate Whatsapp Business Cloud Api with Kommunicate, that you might find helpful.
---
At Kommunicate, we are envisioning a world-beating customer support solution to empower the new era of customer support. We would love to have you on board to have a first-hand experience of Kommunicate. You can signup here and start delighting your customers right away.