Last Updated on June 26, 2023
WhatsApp and Telegram are the biggest names when it comes to instant messengers. Both the messengers offer bot capabilities that businesses can leverage for their sales, marketing, or customer support functions.
However, choosing between WhatsApp chatbots and Telegram bots is no mean feat. Both the instant messengers have proven their mettle in simplifying online interactions.

While WhatsApp has become the de facto means of texting for a large part of the world, Telegram is trying to enter the market and establish a presence. It is using high-end security and privacy as the trump card on the rise against WhatsApp.
It was in March 2021 that WhatsApp suffered a major public image erosion. At the same time Telegram surfaced as a secure alternative. There were others in the game as well, like Signal which came out of nowhere and slowly receded to oblivion.
Despite all the backlash on the internet, WhatsApp has retained its pole position as an instant messenger. And it continues to grow at an astounding rate. For businesses, this poses a tricky situation. Which one should they choose as the channel for launching their chatbot?
Let's begin with understanding the differences.
Primary differences between WhatsApp chatbot Vs Telegram chatbot
Both WhatsApp and Telegram are considered to be top contenders in the instant messenger space. However, there are minute differences that set them apart.
As is evident from the table, WhatsApp and Telegram have subtle differences when it comes to capabilities. However, when it comes to business communication, especially for customer support, sales, and lead generation, WhatsApp seems to have the edge over Telegram.
These differences bring the question – why should businesses choose WhatsApp bots over Telegram bots? Find the answers below.
Bonus: How to Create a WhatsApp bot for your business?
Why should your business choose WhatsApp chatbots and not Telegram Chatbots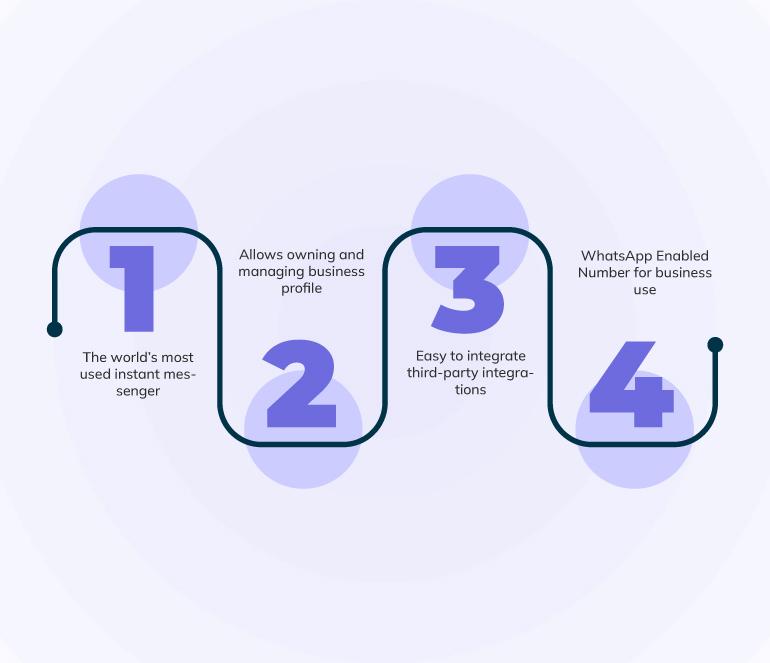 Considered numero uno of messengers
At 2 Billion users and counting, WhatsApp is undeniably the number one messenger in the market. It is also regarded as an essential that is immediately downloaded when a user purchases a new device or switches it. This massive user base gives WhatsApp bots an easy entry into a huge market. Businesses do not have to ask customers to download a new app to strike a conversation. WhatsApp gives customers a familiar interface to talk to brands.
For businesses, bots can automate the process of responding to customer queries. Automation, which usually works at a simple level can help reduce the large volume of basic questions that customers frequently ask.
Allows owning and managing business profile
WhatsApp for business allows businesses to set up their own business profile and manage it like they would manage a social media handle. It gives the facility to set a branded display picture, a detailed profile description, and even mention critical information like working hours, alternate contact information, etc.
Further, with a WhatsApp business profile, it is possible to upload product catalogs. Customers who have business contacts can easily access them from the attachments section. This helps in lead generation and in driving focused conversations with customers.
Easy to integrate third-party integrations
WhatsApp APIs simplify the task of integrating third-party applications. If your business is already using a CRM or helpdesk software, you can integrate WhatsApp conversations into the same and manage all customer communications, support queries, and tickets from a single place. It simplifies the task of providing customer support and reduces the friction in passing information across channels.
WhatsApp Enabled Number for business use
Virtual phone numbers, that is, phone numbers that do not have physical cables or SIM cards rose in popularity with the massive adoption of VoIP. WhatsApp voice and video calling also use VoIP for data transmission. This allows businesses to have a WhatsApp Enabled Number, which is primarily a dedicated virtual phone number for telecommunication. With a WhatsApp Enabled Number for business use, businesses can enjoy the best of both worlds — real-time text communication and voice calling.

Final check – WhatsApp bots or Telegram bots?
WhatsApp and Telegram bots can offer similar or near-identical capabilities. However, WhatsApp should be the default choice if you want to reach the maximum number of customers. We have enough evidence showing that WhatsApp has more users which makes it an obvious choice. Further, WhatsApp for business and WhatsApp API also make it easier for businesses to extend the chat capabilities of WhatsApp into an enterprise-grade communication system.
All said the final verdict is that WhatsApp bots should be your final choice.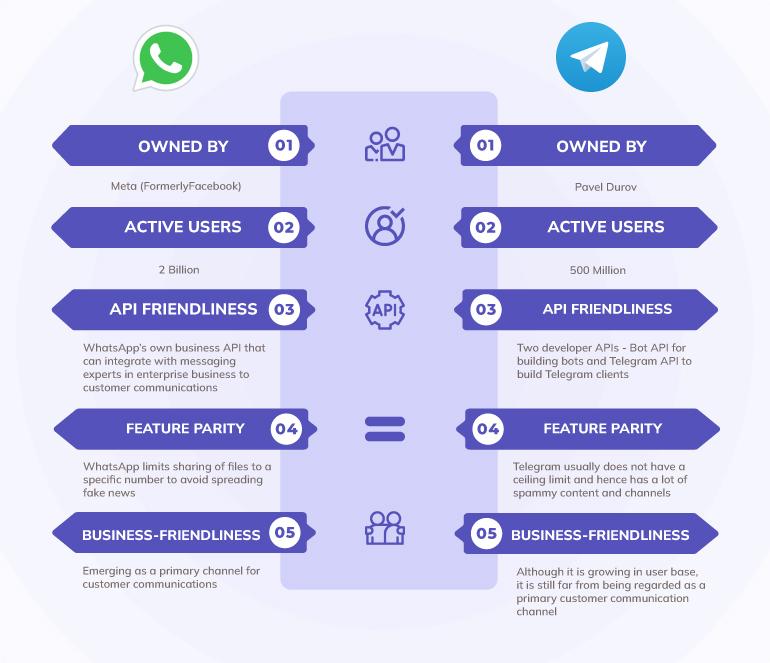 Bonus: How to Create a Telegram bot for your business?
---
At Kommunicate, we are envisioning a world-beating customer support solution to empower the new era of customer support. We would love to have you on board to have a first-hand experience of Kommunicate. You can signup here and start delighting your customers right away.