Last Updated on August 2, 2023
39.5% of all the websites on the planet are powered by WordPress. Let that number sink in. According to FirstSiteGuide, there are close to 2 billion websites online, so this is a huuuge number.
In fact, this blog that you are reading. Powered by WordPress.
Microsoft's News Center website. Powered by WordPress.
In fact, if you need an open-source Content Management System (CMS), you will most likely use WordPress, since it commands 64% of the market share.
But what about WordPress chatbots? Is it easy to build one? Why do you need a WordPress chatbot for your website? How do you add a chatbot to your WordPress website?
We answer all these questions and more in this blog. Read on:
Table of Content:
What is WordPress chatbot?
A WordPress chatbot is a chatbot that lives on your WordPress website that will help you do a plethora of tasks, including lead collection, abandoned cart recovery, and even collecting customer data. Since WordPress is open-source, it offers a range of its own chatbot plugins, as well as third-party plugins.
Think of a WordPress chatbot as a butler to your WordPress website, aka Alfred to Bruce Wayne. The Chatbot greets all visitors to your website, guides them through the website, answers questions that your visitors have in a jiffy, and hands over requests to a live agent if the bot cannot handle the request.
Pretty neat, isn't it? Let's see how a WordPress Chatbot can impact your business before we move on to the best WordPress chatbot builders.
How adding a WordPress Chatbot can impact your business
Improve customer service: Want to reduce customer support costs and, in turn, running costs of your business? A chatbot on your website can help you do that. In fact, according to IBM, an AI-powered chatbot on your website can answer close to 80% of your customer service questions.
Redirect website visitors: Every visitor to your website is different, each looking for something unique that you can offer. If you can't offer your visitor what they are looking for in less than a minute, they will navigate somewhere else, according to this report. A chatbot can help make website navigation that much easier by redirecting visitors to key sections and also to your CTA (Call to Action).
Automate repetitive tasks: Chatbots on your website can help your website visitors answer most of the repetitive questions, leaving your customer support agents with more time to deal with more tricky customers.
Make your website more fun to use: Chatbots add personality to your website, and millennials are looking for ways how your website competes with the ten others in the market that are selling the same item. Make your website a "Purple Cow,". If you don't know what that is, read this excellent book by marketing guru Seth Godin.
Top 10 Best Chatbot for WordPress
Starting things off, we have our own chatbot builder, Kompose, from the house of Kommunicate. Not to brag, but Kompose is probably the easiest chatbot building platform to master out there. Based on Natural Language Processing (NLP) Engine, Kompose is a GUI bot builder that makes building bots and training them quite simple, with a drag and drop interface. There is also powerful Bot analytics which helps you analyze how your bot is performing and the scope of improvement.
Integrating Kommunicate chatbot onto your WordPress website is a simple, 4 step process. It involves logging into your WordPress dashboard and adding the Kommunicate plugin to your website. We will tell you all about it in the latter part of this blog.
Pricing
Kommunicate offers a 30 day free trial followed by a Start plan at $40 / month, which gives access to 2 teammates, and a Grow plan at $100/month which gives access to upto 5 teammates.
Chatra is a chatbot solution for WordPress that is designed specifically to help your sales team. The Chatra chatbot has customizable chatbot templates that help in lead generation, assisting in completing the checkout process, and providing basic support. Chatra will give you information about the live customers on your website, and also helps you begin conversations with these customers.
Chatra also has a Facebook integration which makes it easy to connect with prospects on the popular social media platform. There are also advanced features such as exit-intent detection, triggered chats and typo correction that make Chatra a powerful solution.
---
WP-Chatbot for Messenger is another one of those chatbot builders that we felt deserved a spot on this list, thanks to some of their unique features. The main USP of WP-Chatbot for Messenger is that it helps you deal with all your customer conversations through a single inbox. WP-Chatbot offers a wide variety of templates to build a chatbot for WordPress.
WP-Chatbot lets you switch between Facebook Messenger conversations and your web chat easily. With more than 10,000+ installations, this is one most popular chatbot solutions available out there. The chatbot allows you to easily answer FAQs and marketing messages, giving you the ability to reach more customers automatically.
The fourth member on our list makes it here because of its ease of use, AI capabilities, and how well it integrates with other chatbot solutions, like Google's DialogFlow. Chatbot for WordPress comes with pre-defined templates for lead generation and customer support.
This chatbot also easily connects with the Conversational Forms plugin to help you easily design conversational flows on your website.
The only flaw we see in using this solution is that the basic version does not come with a free chatbot builder. It is more suitable for personal websites or small businesses that are setting up their online store. The premium version has more advanced features such as chatbot builder and Messenger integration. The chatbot solution also comes with a built-in intent that helps users with feedback and FAQs.
The last member on our list of top 5 WordPress chatbot builders of 2023 makes it here because of the sheer number of integrations, which today stands close to 130+. This chatbot solution also comes with a unified inbox where all the messages from social media, messaging apps and website visitors, make it that much easier to support customers.
Cliengo connects with Facebook Ads, Google Ads, Google Analytics and other popular CRM tools for your online business. The solution also comes with chatbot templates for lead generation and customer support. There are four pricing plans available, with the corporate plan going up as much as $300/month.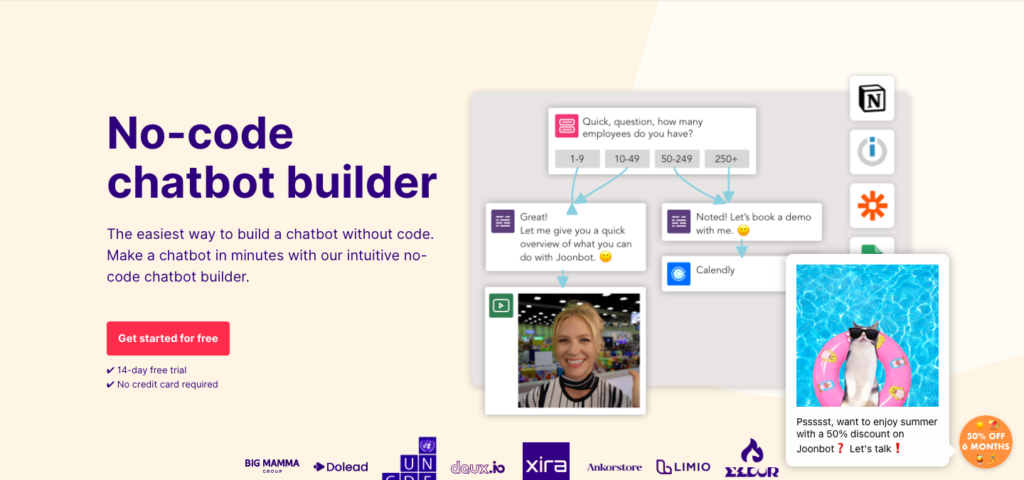 A. Easy and fast installation.
B. Ability to add videos and GIFs to the answers.
C.Responsive designs that can be customized according to the need of the website.
Pricing:
14 days free trial, with 100 conversations and 1 chatbot. There is also a Starter plan at $28/month for unlimited chats and conversations and Plus plan at $99/month for Priority support and removal of Joonbot branding.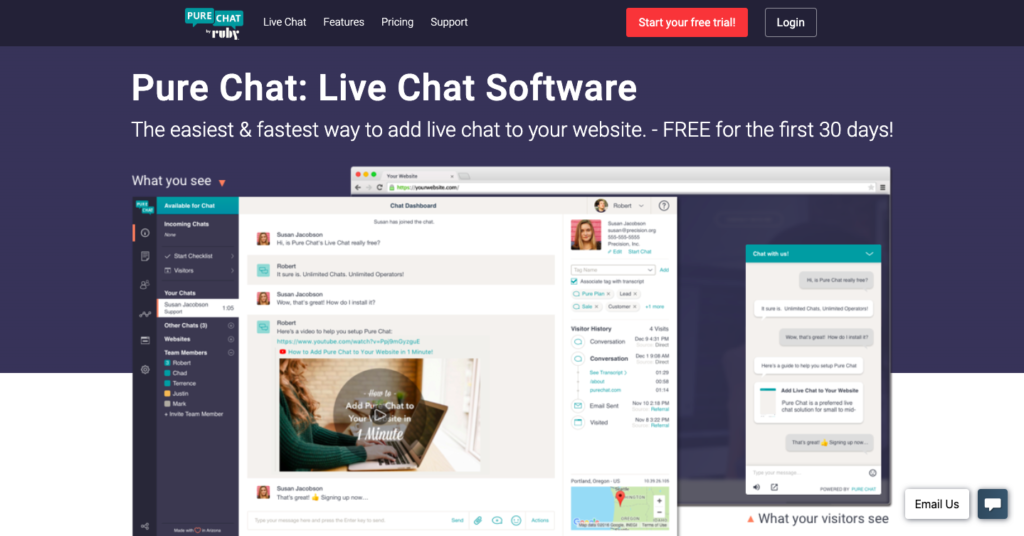 Customize your chatbot with custom images and eye-catching color themes.
Real time analytics and SMS notifications. b.
Choose when you want to be visible online and offline. c. Ability to download the full transcript of the chat.
Pricing:
Growth plan that starts at $49/month for small businesses and Pro plan that starts at $99/month suited for corporations and enterprises.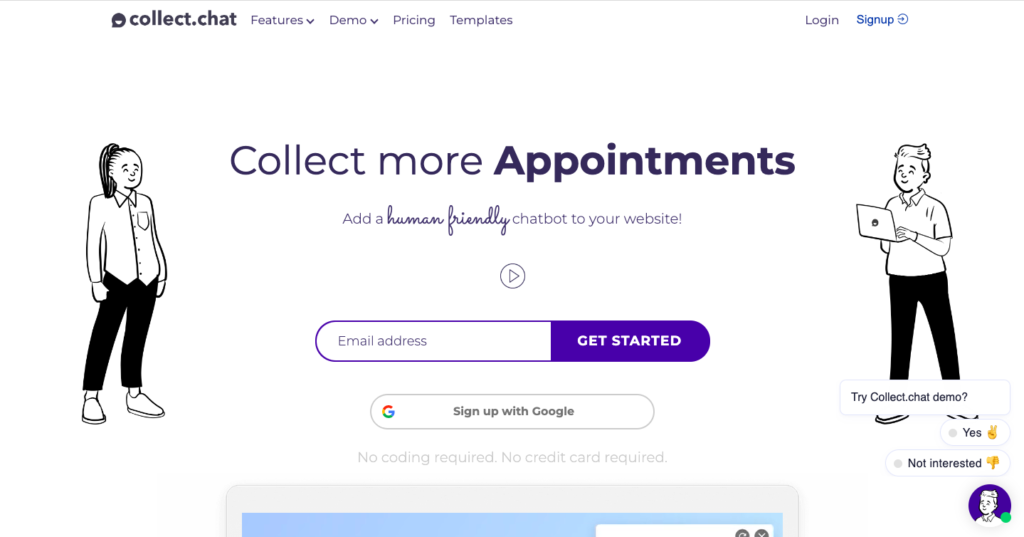 Build a chatbot that changes the flow of the conversation according to the way the users communicate with it.
a. Automatically generate and qualify leads.
b. As soon as a visitor completes a chat, you get a notification.
C. Easily connect chatbot to calendar to schedule sales calls.
Pricing:
A.Free plan for upto 50 conversations per month. Lite plan for $24 for 500 conversations/month and $49 for 2500 conversations/month with Standard plan.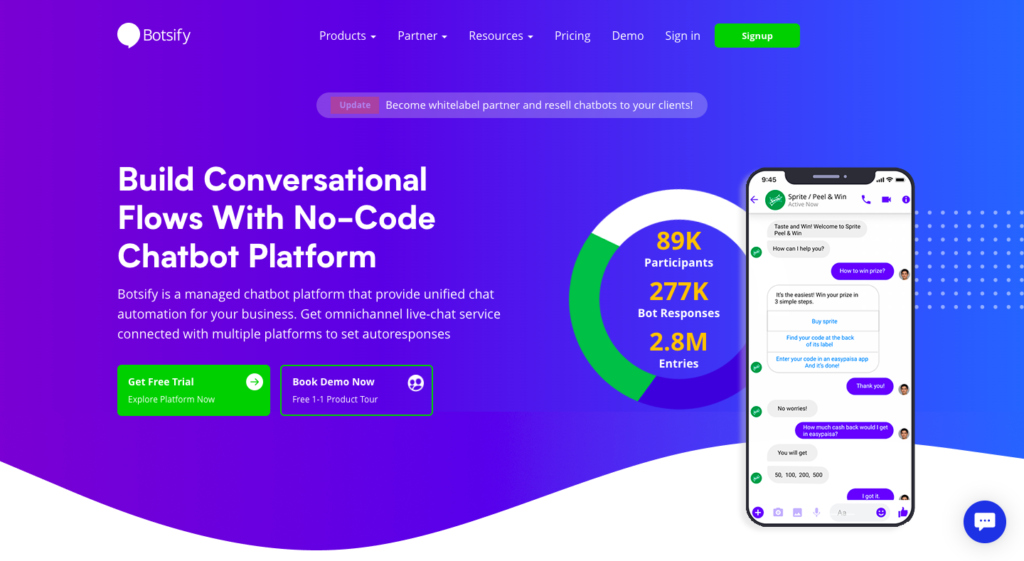 Botsify is a chatbot builder platform for your WordPress website that has pre-built templates for specific industries, making it easy for business owners to build bots.
The bot platform gives you access to the history of the chat session.
Message scheduling facility.
Customize your bots according to colors and logos of your brand.
Pricing:
Botsify has a 14 day free plan. There is also a Do it Yourself plan that starts at $49/month for 2 chatbots and $149/month for 5 chatbots.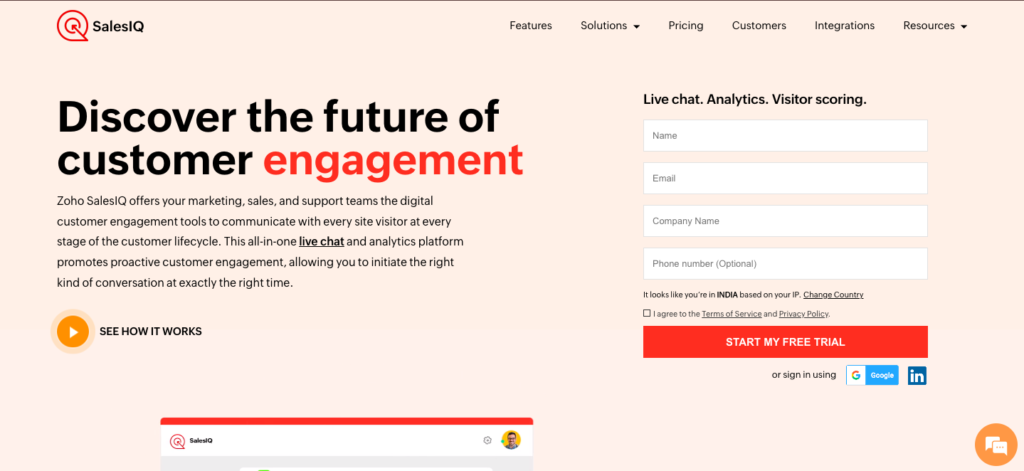 Zoho Sales IQ lets you know customer details such as referral source and geolocation, enabling the bot builders to make smarter decisions.
Ability to identify current and returning store visitors.
Translate chats instantly.
Ability to track visitors to the site in real time.
Pricing:
Free plan for 3 users and upto 10k visitors/month. Basic plan for $10/user/month with 50k visitors/month and Professional and Enterprise plans at higher costs.
That completes our list of the top WordPress chatbot builders of 2023. Now that you know whom to look for when building a chatbot for your own website, let us show you how this can actually be done.
A "chilled out" chatbot builder that lets you communicate with your website visitors a bit more informally.
Add Chatbot on your WordPress website
Stage 1: How to create a chatbot for WordPress website?
Sign up for Kompose, a GUI bot builder based on natural language conversations for Human-Computer interaction. You don't need any coding skills to master Kompose. It has a simple, intuitive, and easy-to-use interface. Sign up here.
Go to the Bot integrations section and use the "Create a Bot" option to create one.
Name your bot, set its language (as Kompose supports most used languages), and click save.
Create your first welcome message and embed Texts, Buttons, Images, or other rich media types.
Create answers for the bot. Define the intent that is possible and mention the phrases that you expect will trigger the communication. With time your bot will learn.
If you don't want to create your Chatbot from scratch, you can also use one of the available chatbot templates.
Set your chatbot to handle all your customer conversations
Once you create a chatbot, you can set it as a default bot in the conversation routing rules section as shown below.
Click on ⚙️Settings >> Conversation rules >> Routing rules for bots >> Then click on bot like below and select your bot.
Now, your bot will reply to all of your conversations.
Stage 2: How to add a chatbot to wordpress site
Step 1: Log in to your WordPress dashboard & Navigate to plugins
From the left navigation panel, click on Plugins. After that, click on Add New
Step 2: Add Kommunicate Plugin
Navigate to the search box and type 'Kommunicate'. Click on the Install now button and activate it.
Step 3: Click on the Kommunicate setting in the Left Panel
Step 4: Add your Kommunciate App ID
Here, it will ask you for your APP ID. Then, Go to Kommunicate settings in your WordPress dashboard > Paste your Kommunicate App ID and click on save changes
Note: For App ID go to your Kommunicate dashboard > Settings > Install > Copy your App ID
Refresh your page and now your chatbot widget should be live on your WordPress website.
How much does it cost to build a WordPress Chatbot
If you are using a third party chatbot plugin, the cost required to build a WP chatbot can range anything from $40/month (Kommunicate) to $140/month (IBM Watson). Most of the chatbot builders offer a free trial for up to 14 days, when you can test the capabilities of the bot and pick out the features that you feel are best suited for your WordPress Website.
Benefits of WordPress Chatbot for your business
Reduced customer service cost:
Customers are spoilt for choice, especially in the crowded eCommerce marketplace, where they can move on to the competition within a couple of clicks. Having a customer service representative on hold during the entire transaction is not a feasible option too since it will add up to the bottom line. The perfect solution in this scenario is chatbots. Chatbots can welcome visitors to the site, guide them through the various elements of the website, and answer FAQs with ease. And all of this without the need for human intervention.
Reduce cart abandonment rates:
Cart abandonment is a big problem for any E-commerce website owner, and a chatbot can go a long way in tackling this problem. Chatbots can remind returning visitors about the items they had already put in their shopping carts, thereby increasing the chances of making a sale.
Provide superior customer experience
Chatbots on your WordPress website can greatly enhance the quality of interactions visitors have with your website. Bots can be designed to have human-like conversations with visitors, giving them the feeling that they are not just talking to a machine. This level of personalization also enhances your brand, which will indirectly increase the bottom line of your business. Bots can be used to update customers with new product offerings, and discounts, and also help them make the right purchase decisions.
Increase subscriber numbers
Chatbots act as an important medium to collect email IDs, which you can later use to reach out to potential customers. You can send company newsletters and other recent updates to this email ID, thereby ensuring that your brand name remains in the minds of the customer when they are looking for a similar product in the future.
Wrapping Up
Creating and installing your WordPress chatbot is as simple as it gets and requires no coding skills or technical expertise. Use the live chat and bots to connect quickly with visitors to your website and with customers.