Last Updated on June 8, 2022
What is a chatbot?
Chatbots are computer programs that use Artificial Intelligence to carry out basic conversations via text. Customers today expect quick responses to their queries, and no matter how good your customer support is, there will inevitably come a time when human agents just cannot cope with the barrage of customer queries. This is where a chatbot will come in handy.
Chatbots reduce the response time, improve customer experience, and can even help nurture and qualify leads. Chatbots are available 24/7, don't take bathroom breaks, don't ask for a raise now and then, and don't unionize. And the best part? Building a chatbot is not that complicated.
So we have scratched the surface of how chatbots are good for your website. But then, how exactly have you built your website?
What is WordPress?
WordPress is an open-source content management system (CMS), which is designed with flexibility and usability in mind. Written in PHP that uses a MySQL database, WordPress can be used to build business websites, portfolios, e-commerce and blogging websites.
There are over 455 million websites floating around the internet that are built using WordPress, and chances are high that if you are reading this, you have a website that is running on WordPress too.
In this article, we will cover:
Why do you need a chatbot for your WordPress website?
How to add a chatbot to your WordPress website.
Top 5 WordPress chatbot builders available in the market today.
Why do you need a chatbot for your WordPress website?
Having a Chatbot on your WordPress website is not just a fancy add on anymore. A chatbot can completely transform the way users interact with your website, and can significantly improve your lead generation efforts. Here are a few other reasons why you should consider having a WordPress chatbot on your website:
Classification: Chatbots can classify all of the queries coming into your website according to their complexities and assign them to the appropriate agents if required. This will help save a lot of time for the agents and for the customer.
Uninterrupted support: With automation, the visitors to your WordPress website can receive answers to their queries at any hour of the day or night. This uninterrupted support enhances the customer experience.\
FAQs: Chatbots can be deployed on your WordPress website to answer the most common questions, with pre-defined template answers that do not require human intervention. Chatbots can also be used to collect feedback on the entire customer journey, and this data can be then used by the website team to make the customer experience smoother.
Tailor – made solutions : Chatbots can be used to give product recommendations to the visitor that are personalized and are based on user preferences that the bot has collected over the course of the conversation it had with the customer. This again elevates the customer experience to a whole new level, making the website visitors feel welcome to your website.
Two-way communication: A chatbot on your website offers the customers a chance to interact with your brand in real time, opening the doors to a two way communication.
Install ChatBot on your WordPress site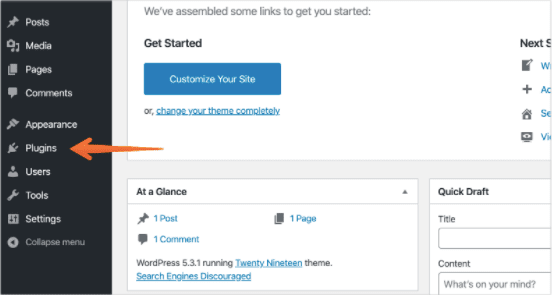 Step 1: Go to the Plugins section in your WordPress Dashboard.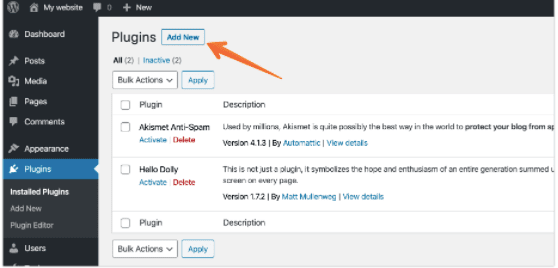 Step 2: Click on the Add New button.
Step 3: Navigate to the search box and type 'Kommunicate'. Click on the Install now button and activate it.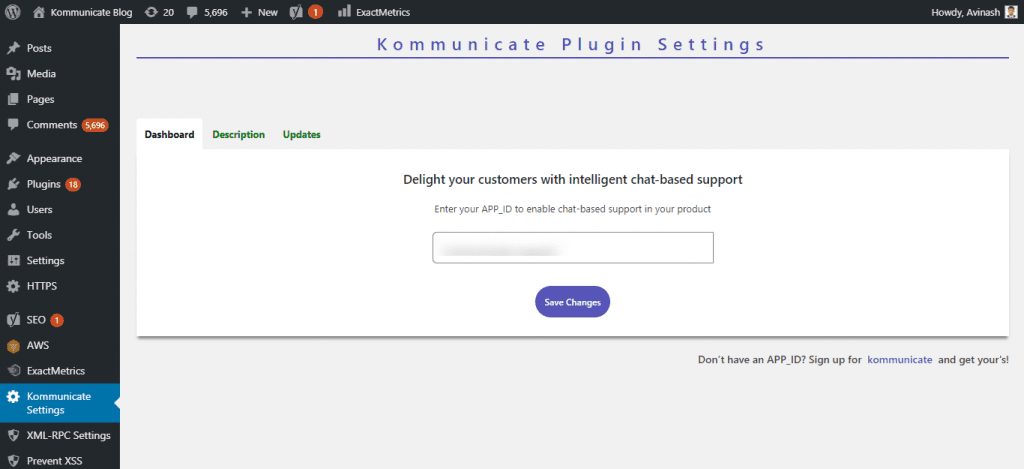 Step 4: Click on the Kommunicate setting in the Left Panel, Paste your Kommunicate App ID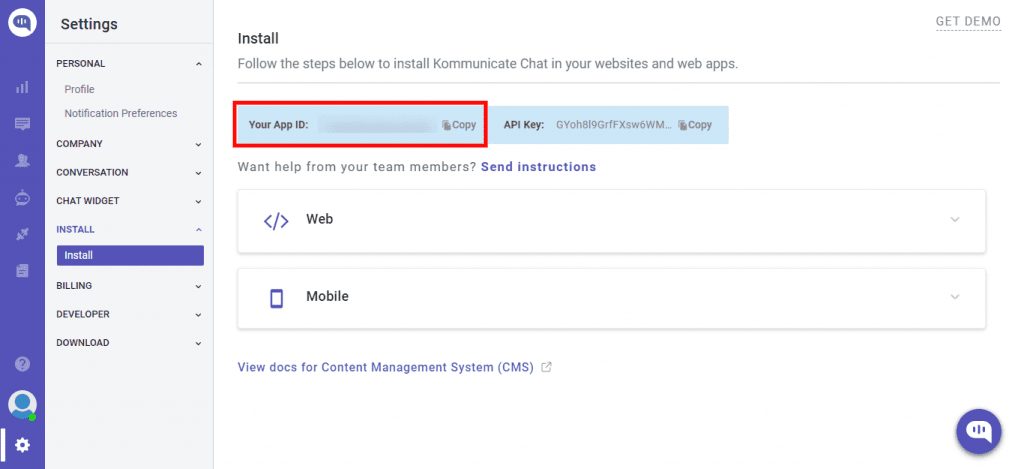 Step 5: Find App ID go to your Kommunicate dashboard > Settings > Install > Copy your App ID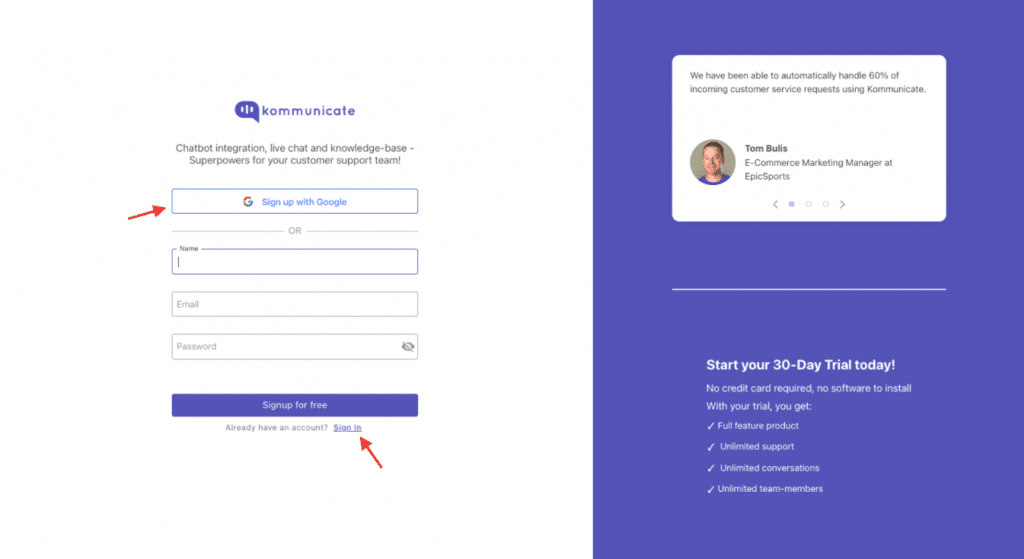 Step 6: If you don't have an account yet, create one by clicking on the Signup button. Otherwise, click on one of the available Sign in buttons.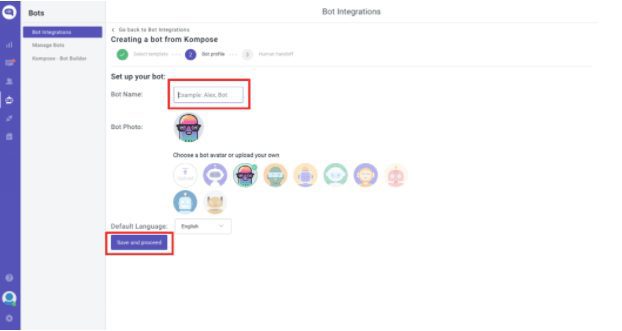 Step 7: Almost ready! Now create the bot that you will use on your website.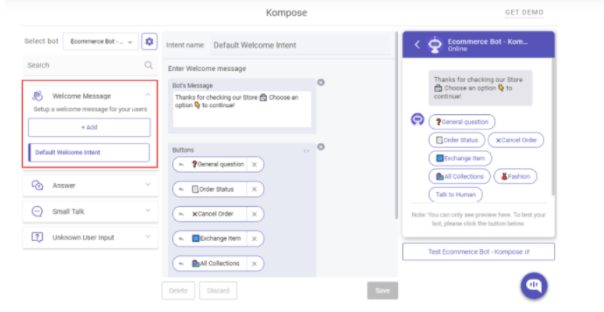 Step 8: Create your first welcome message and embed Texts, Buttons, Images, or other rich media types.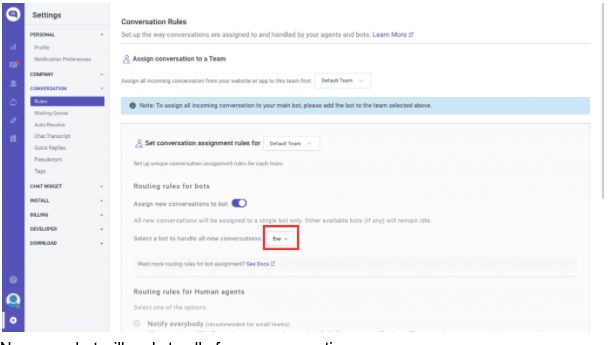 Step 9: Set your chatbot to handle all your customer conversations and add it to WordPress.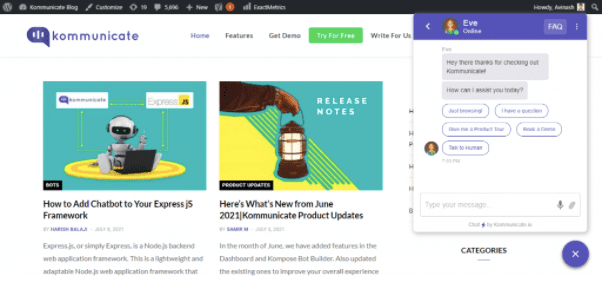 Step 10: Refresh your page and now your chatbot widget should be live on your WordPress website.
Top 5 WordPress chatbot builders of 2022
Kommunicate – Chatbot
Starting things off, we have our own chatbot builder, Kompose, from the house of Kommunicate. Not to brag, but Kompose is probably the easiest chatbot building platform to master out there. Based on Natural Language Processing (NLP) Engine, Kompose is a GUI bot builder that makes building bots and training them quite simple, with a drag and drop interface. There is also powerful Bot analytics which helps you analyze how your bot is performing and the scope of improvement.
Integrating Kommunicate chatbot onto your WordPress website is a simple, 4 step process. It involves logging into your WordPress dashboard and adding the Kommunicate plugin to your website. We will tell you all about it in the latter part of this blog.
Chatra Live Chat
Chatra is a chatbot solution for WordPress that is designed specifically to help your sales team. The Chatra chatbot has customizable chatbot templates that help in lead generation, assisting in completing the checkout process, and providing basic support. Chatra will give you information about the live customers on your website, and also helps you begin conversations with these customers.
Chatra also has a Facebook integration which makes it easy to connect with prospects on the popular social media platform. There are also advanced features such as exit-intent detection, triggered chats and typo correction that make Chatra a powerful solution.
WP- Chatbot for Messenger
---
WP-Chatbot for Messenger is another one of those chatbot builders that we felt deserved a spot on this list, thanks to some of their unique features. The main USP of WP-Chatbot for Messenger is that it helps you deal with all your customer conversations through a single inbox. WP-Chatbot offers a wide variety of templates to build a chatbot for WordPress.
WP-Chatbot lets you switch between Facebook Messenger conversations and your web chat easily. With more than 10,000+ installations, this is one most popular chatbot solutions available out there. The chatbot allows you to easily answer FAQs and marketing messages, giving you the ability to reach more customers automatically.
ChatBot WPBot by Quantum Cloud
The fourth member on our list makes it here because of its ease of use, AI capabilities, and how well it integrates with other chatbot solutions, like Google's DialogFlow. Chatbot for WordPress comes with pre-defined templates for lead generation and customer support.
This chatbot also easily connects with the Conversational Forms plugin to help you easily design conversational flows on your website.
The only flaw we see in using this solution is that the basic version does not come with a free chatbot builder. It is more suitable for personal websites or small businesses that are setting up their online store. The premium version has more advanced features such as chatbot builder and Messenger integration. The chatbot solution also comes with a built-in intent that helps users with feedback and FAQs.
Cliengo Chatbot
The last member on our list of top 5 WordPress chatbot builders of 2022 makes it here because of the sheer number of integrations, which today stands close to 130+. This chatbot solution also comes with a unified inbox where all the messages from social media, messaging apps and website visitors, make it that much easier to support customers.
Cliengo connects with Facebook Ads, Google Ads, Google Analytics and other popular CRM tools for your online business. The solution also comes with chatbot templates for lead generation and customer support. There are four pricing plans available, with the corporate plan going up as much as $300/month.
That completes our list of the top WordPress chatbot builders of 2022. Now that you know whom to look for when building a chatbot for your own website, let us show you how this can actually be done.
---
At Kommunicate, we are envisioning a world-beating customer support solution to empower the new era of customer support. We would love to have you on board to have a first-hand experience of Kommunicate. You can signup here and start delighting your customers right away.